Welcome aboard the Fulton Steamboat Inn, a first-class, full-service hotel dedicated to delivering the most memorable overnight experience in Lancaster County, PA.
Aboard our steamboat-themed hotel, conveniently located within minutes of the most popular destinations in Lancaster County, you can relax in our one-of-a-kind Nautical- or Victorian-themed guest rooms, or unwind on our exclusive adults-only Sun Deck. Known for our friendly and personalized service, our Guests enjoy the same style and dedication to comfort and dining that made legendary riverboats famous.
We look forward to welcoming you to the Fulton Steamboat Inn, where our 19th-century charm and exceptional staff will make your stay feel like you're home away from home.
Captain's Club
We love our Guests and want to reward them with special rates for overnight stays and dining. Stop by the front desk to ask how you can join the exclusive Captain's Club.
Learn More >
New Year's Packages
Ring in 2024 aboard a Steamboat! All-inclusive New Year's Packages are now available to include Deluxe Guest Room Accommodations, a special 4-course NYE dinner, Champagne, LIVE piano music and a New Year's Day breakfast!
Learn More >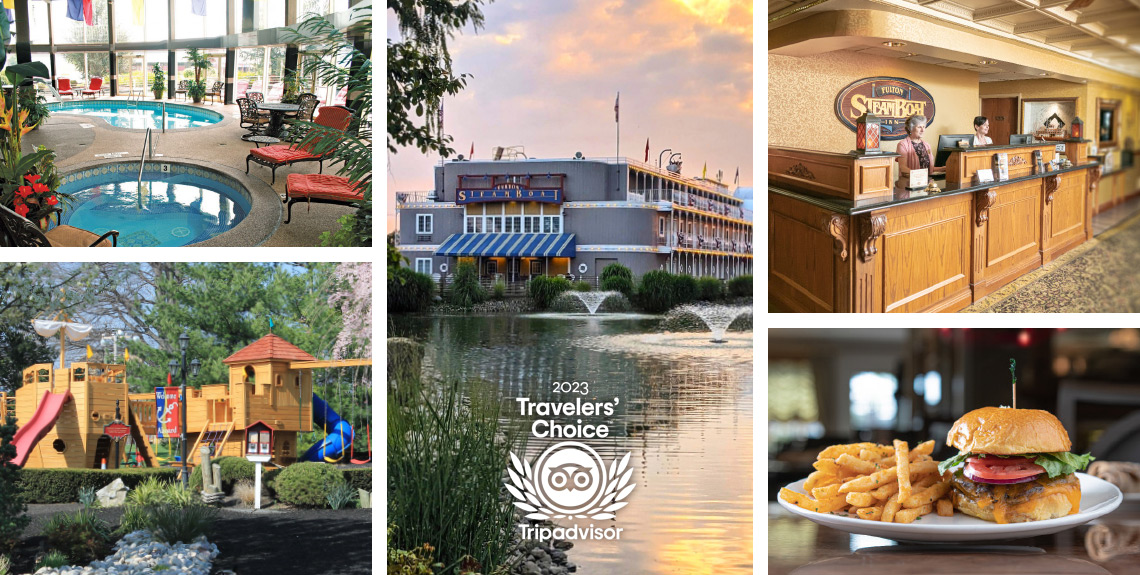 Here's what our guests say about their stay …
"I stayed at the Inn over Memorial Day Weekend with my friends. The room was so clean and well kept, while the food in Huckleberry's was great, and Arlene in the gift shop a real pleasure! Overall, we had a great time on our girls get-away weekend! We'll be back!"
"My husband and I had such a great time at the Fulton for a romantic weekend away to celebrate our anniversary! We stayed in a Sun Deck King room, and could not have picked a more relaxing, and well accomodated place! The staff is great, especially David in the tavern, and Scott at the desk! Thank you for making our anniversary memorable!"
"Best stay ever! Rooms are very comfortable and clean. Close to popular attractions. I will be coming back. Great food and service in the Huckleberry Restaurant. Bob was an awesome waiter."
"All my kids can talk about is our annual pilgrimage to Lancaster county in August. Playground, walking trails, koi pond, indoor pool, and farmland next door. Looking forward to seeing Arlene in the gift shop for duck food. Paradise is not just a stop on the railroad but a stay at the Fulton Steamboat Inn. Best french onion soup in the county. See you soon!"
"My 4 year old son stayed at the Steamboat on our way home from our beach vacation. The duck/koi pond and playground were a huge hit! Dinner was amazing, the room was clean, and the staff was extremely friendly. The Steamboat is just minutes from child-friendly activities like Dutch Wonderland and mini golf. My husband and I are planning another trip to the Steamboat in the near future for a family mini vacation. I highly recommend staying at the Steamboat Inn!"
"Best place my husband and I have ever stayed. We travel several times a year and this was by far the most beautiful place and best accommodations we have ever stayed at. The staff and services were above excellent. Will be going back again and again."
"I couldn't imagine staying anywhere but on the Fulton Steamboat — my kids absolutely love it. The front desk staff are so helpful & friendly, Arlene in the gift shop is just the sweetest person you will meet, the staff at the restaurant are great and the food is delicious….and David in the Tavern is the awesome….Can't wait for my next visit, it's always heartbreaking to leave."
"What a wonderful find! Was in the area for shopping and at the last minute decided to stay… staff was so friendly and set us up with things we did not plan on (tooth brush and paste etc.) Am making plans to return! Fantastic place, food and spirits were great."
"Thank You for a wonderful 40th Anniversary weekend. We could not have stayed at a better place than the Fulton Steamboat Inn. Your hotel is spotless and your staff is wonderful. We want to thank you for the Champagne and desserts."
Don't forget our fabulous, award-winning, onsite dining! Huckleberry's is on-board so you don't even need to go ashore.
Learn More >