Dine Aboard a Steamboat at Huckleberry's Restaurant
Huckleberry's Restaurant & Tavern offers a charming atmosphere with friendly, personalized service, making this hotel in Lancaster Pennsylvania an outstanding choice for you and your family. And, as Guests of Fulton Steamboat Inn, you always get priority seating.
Families, couples, and groups are all welcome at our hotel. Please ask about our family-style and banquet options for your next special event, meeting, or private gathering at our restaurant!
Enjoy Lancaster County Favorites & Fresh Signature Recipes!
Enjoy freshly prepared farm-to-table dishes made from food grown in Lancaster County. Reservations are recommended but not required. Please call (717) 735-0803. All major credit cards are accepted.
Join us for Live Music from Bill Horn
From March through December, enjoy Bill's extensive musical repertoire every Friday & Saturday from 5:30 – 8 PM in Huckleberry's Restaurant.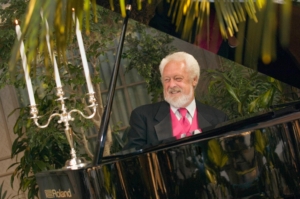 A Local Favorite
"Staff was very pleasant, food was excellent, and the restaurant was clean and nicely decorated. Would definitely stop again on our next trip to the area."
"My wife and I had an excellent dinner along with some very nice musical entertainment during the meal. The prices were reasonable and staff was great. We would recommend."
"The first night we were there it was pouring rain so we got one of the last tables in the tavern. Only one person sat, served made drinks and waited on a whole room of people. He did his best but he could use help. The drinks were nice and strong and the quesadillas were yummy. The kids meals were fair. We dined in the dining hall for breakfast and that was top notch and delicious. I would highly recommend the bacon and pancakes."
Free Ice cream for Guests Under 12!
All children 12 and under receive a complimentary child's ice cream sundae in Huckleberry's Restaurant when wearing their official Jr. First Mate's hat, and when accompanied by an adult purchasing a meal.
Please ask for your Jr. First Mate's hat upon check-in!
Thanksgiving Dinner
Looking for a delicious, stress-free Thanksgiving meal? Join us on Thanksgiving day, Thursday, November 23 from 12-7PM for a feast for the entire family. In addition to classics such as sliced roast turkey and baked country ham, enjoy options such as flame-grilled salmon, butternut squash ravioli, and even pumpkin pie and warm apple pie a la mode. Reservations are HIGHLY encouraged.