When visiting beautiful Lancaster PA, booking a hotel that will enhance your experience can make all the difference during your stay.
At Fulton Steamboat Inn, our passion is to make sure our visitors are able to enjoy and relax, and create lasting memories while lodging in our Lancaster PA hotel.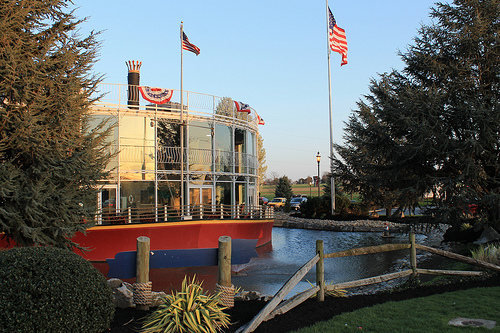 As soon as you step into the Steamboat Inn, we'll welcome you with refreshments, and take care of you and your loved ones for the length of your stay. Our dedicated staff will see that things go smoothly, from checking in, to the room being ready, to amenities being available, to assisting you with places to visit and things to do, and to checking out.
The convenience of hotel's great location, having food and drinks venues inside the hotel, a fun shop with souvenirs and more, a sparkling indoor pool and whirlpool, a kid's playground, and the beauty of the koi fish pond and duck safe haven, and a lovely patio with a fire pit, allow you to truly enjoy, relax and make the most of your vacation.
A lot of these things would not be possible if it weren't for our friendly and knowledgeable staff, and a huge part of it is our Captain, Joe.
Here's a typical day in the life of Joe at the Fulton Steamboat Inn:
Joe's regular daily duties start with checking the ship's course. He inspects the engine room, the lifeboats and life preservers.
He swabs the deck, and makes sure everything is sparkly clean.
Next he meets with the Crew, and goes over that day's agenda, discusses different ways to continue improving the service and best practices and ways to complete tasks.
Joe's favorite part of the day is meeting and greeting the passengers. He loves being of service, hearing about hotel guest's experiences and sharing stories with regular patrons.
Another exciting daily task is feeding and pampering the ducks. They are like family, and seeing them happy brings a big smile to Joe's face.
The day nicely completes with docking the ship and setting sail for the next day.
Come experience the distinct design of our Lancaster Pennsylvania lodging, warm and inviting ambience, and excellent service,
Fulton Steamboat Inn would like to welcome you aboard the most unique among Lancaster PA hotels – book your "steamboat fare" today.