Summer is the season when we feel like having fun, getting together, and exploring various events and attractions.
Still, everyday life can get in the way of us making big plans for great adventures, and oftentimes we end up feeling like we can't escape. While that may be true for some adventures in a far away land, it doesn't have to be true when it comes to a re-energizing mini vacation.
And what's more fun than a weekend getaway to avoid the routines of our lives?
Whether you're traveling to charming Lancaster County or you're a local looking for a little bit of magic for your family this August – find it right here at one of the best hotels in Lancaster PA to make your visit or weekend gateway an amazing experience.
Spend your weekend away at a family friendly hotel that is more than just a room with beds – the Fulton Steamboat Inn is sure to make you and your kids happy.
This is the most unique among the Lancaster PA hotels, and you'll notice right away that it looks like a lovely steamboat!
We'll welcome you and your loved ones with refreshments as soon as you enter the hotel's lobby. Our amenities are state of the art, and the accommodation comfortable and elegant.
It is our passion to make sure our guests can have fun, relax, rejuvenate, and create lasting memories.
Relax and invigorate in our sparkling indoor pool and whirlpool, stay energized by using our hotel's fitness center, or enjoy our inviting outdoor area.
The Fulton Steamboat offers a peaceful setting, with a nice patio overlooking picturesque Lancaster County Farmland.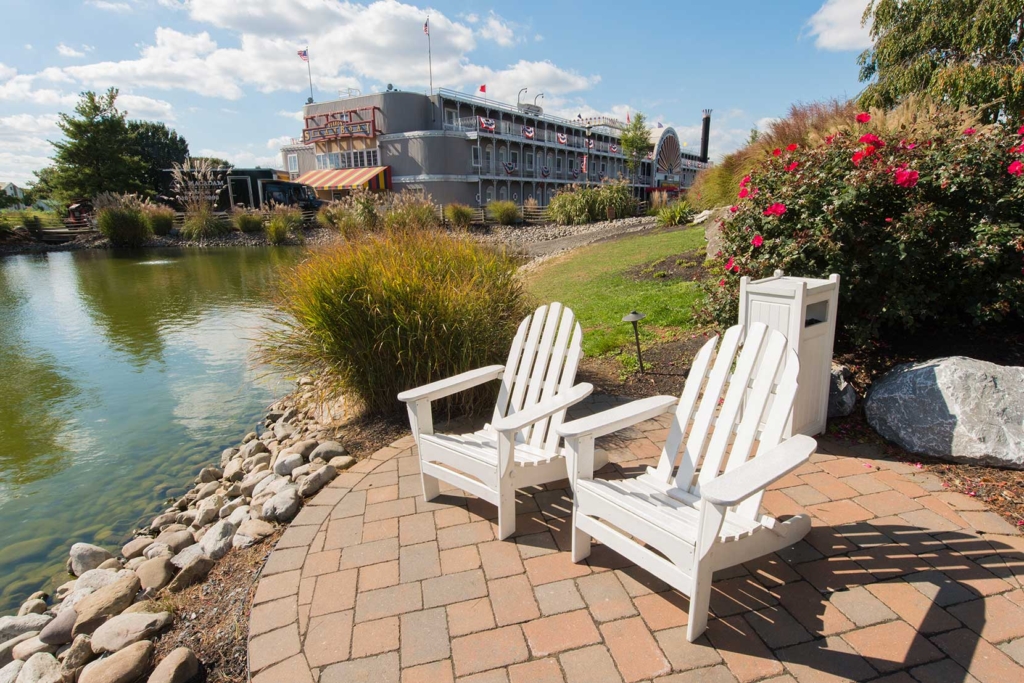 Your kids will have a blast around our duck haven and koi fish-feeding pond, and being carefree at the playground right outside the hotel, JR First Mate's Happy Harbor Landing Playground.
Take a recharging morning stroll or a sunset walk around the pond, and have a fun time telling stories and making s'mores at the fire pit.
Also, the whole family can enjoy a round or two of miniature golf right across the street from the Fulton!
If you prefer to stay in and still have fun, we have you covered with our game room, complimentary Wi-Fi Internet access, Blu-Ray DVD players complete with a DVD Library.
With all the activities, you and your family are bound to work up a great appetite, so Fulton Steamboat Inn has got you covered here, too; you'll find great food and drinks right here – such as these delicious Whoopie pies!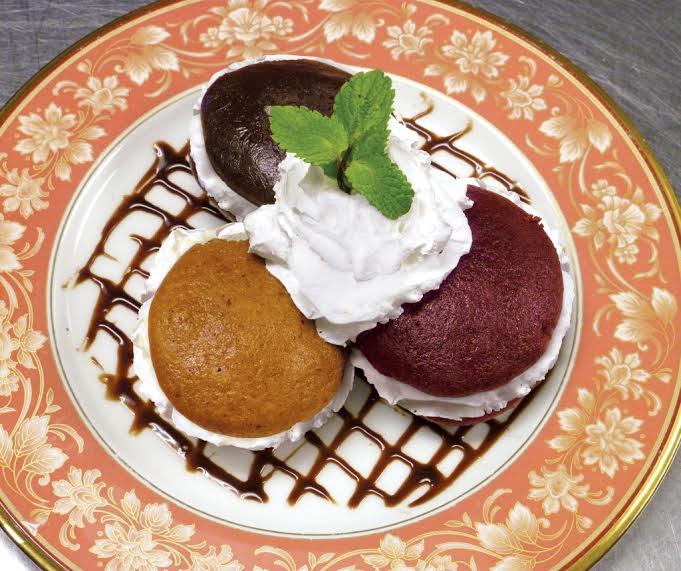 The Huckleberry's Restaurant offers yummy food for the whole family, and piano entertainment on most Friday and Saturday afternoons and evenings. 
The Tavern has drinks and specials you'll love, and there's a Happy Hour from 4pm-6pm!
Like to take a perfect souvenir to remind you of your exciting weekend getaway? We have you covered – The Emporium Gift Shoppe is located inside our hotel, and features gifts and souvenirs from PA Dutch Country and many handmade arts and crafts from around Lancaster County.
Oh, and your kids will love some "Guppy" Love! Simply visit the Emporium to check out our new fish tank and get your own hotel pet while on vacation – your guppy. It always brings a big smile to kids' faces.
By the way, our location is simply awesome – right in the beautiful PA Dutch Country, on Route 30. From here, walk or take a short drive to dozens of artisan shops, restaurants, family fun and cultural attractions, including the serene Amish Country. Also, the city of Lancaster and other local towns are super close, so you can explore the urban scene easily.
Ready to have an adventure this August and looking for best hotels in Lancaster PA? Come see for yourself why so many families keep choosing the Fulton Steamboat Inn.
Start planning your family fun weekend and let us show you all the things that will make your visit extra memorable!
We welcome you aboard the most unique, family friendly hotel in the area – book your fun "steamboat fare" today.