You can fall in love with Lancaster County, PA any time of the year. Particularly so in the fall.
A visit to charming Lancaster County, PA is always a treat. Autumn, however, adorns this area with an extra abundance of splendid colors, delicious scents, luscious flavors, and exciting events. Lovers of Lancaster, PA and autumn – come on over and revel in this amazing season!
This fall, enjoy the rolling hills, seasonal offerings, city scenes, and many fun happenings and family events in picturesque Lancaster County.
This is the time of harvests, so local farmers markets and roadside stands will have a huge selection of produce and homemade goods. You can also pick your own apples, wonder through the corn mazes, and enjoy beautiful vineyards.
After exploring local attractions, let the fun continue – in a sparkling indoor pool!
Yes, the summer is over and 'refreshing water' is not so much on anyone's list of ways to relax and enjoy the day. So, we invite you to enjoy a swim or some leisure time at the indoor pool at the Fulton Steamboat Inn. The added bonus – the pool is heated!
Complete your eventful days this autumn with a stay at a hotel with indoor pool that's surely going to add another spark to your visit. There's something so soothing and timeless, not to mention relaxing and invigorating, about spending time by the water; and, in the fall and winter time, an indoor pool is just the place to do that.
Create many unforgettable memories during your next visit to Lancaster County PA, as you indulge in hotel's indoor heated pool. What's more, there's the cozy warmth of the whirlpool for you to enjoy, too.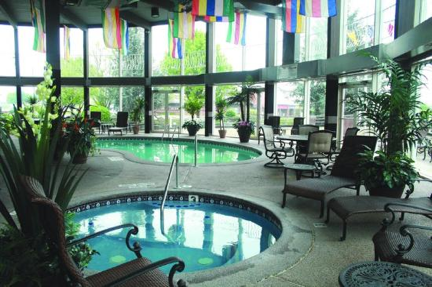 Start planning your adventure, and take advantage of many wonderful things Lancaster, PA has to offer this season!
Let the charm and great amenities of the Fulton Steamboat spoil you. If you're looking at hotels around Lancaster, PA with indoor pool – you've just found it.
Come indulge in our Indoor Pool & Whirlpool, restaurant and lounge, relax by our duck and koi feeding pond and the brand new Fire-Pit & Patio, let your kids play in our new JR. First Mate's Happy Harbour Landing Playground, and take in all the beauty of the surrounding Lancaster County Farmland!
For the most unique Lancaster PA hotel with indoor pool experience, book a stay at the Fulton Steamboat Inn today.