Maybe you're visiting Lancaster PA for the first time; maybe you're a frequent visitor because you love the area so much, or you have family here. Or, maybe, you're a local seeking a perfect little gateway.
The City and County of Lancaster PA attract so many people for a myriad of reasons.
This is a place with rich history, numerous attractions, natural beauty, and quite unique traditions. As you start planning all the wonderful things to do and see, you also need to book your hotel.
Browsing among various Lancaster PA hotels can be a daunting task. Wouldn't you rather spend your time and efforts looking for local festivals, family events, and attractions?
Yes, we agree. Still, picking a Lancaster PA hotel that will make your visit even more memorable – priceless.
Here are some things to consider when selecting a place to stay for your visit or a gateway.
One of the first, if not the first, things people look at is location. Where a hotel is located plays a big role, for many reasons. For some, it's important because they need it to be close to family attractions; some need proximity to the Amish Country; others prefer to be close to major outlets in the area. For all these reasons, and more, choosing one of the Lancaster Pennsylvania hotels on Route 30 makes all the sense.
Route 30 is where outlets are, but also a lot of local artisan shops. Here dozens of restaurants, family fun and cultural attractions await you. If you travel with kids, you'll be happy to know that Dutch Wonderland is right here. And, beautiful and charming Amish Country is just down the road.
Fulton Steamboat Inn is situated in the marvelous Dutch Country. Once you've explored the pastoral charm of the County, continue your adventure to the nearby city of Lancaster and be part of its vibrant scene.
Now, lets look at other important aspects of choosing where to stay, such as amenities of the place.
You should be delighted from the moment you park your car and start walking towards your hotel. Fulton Steamboat Inn looks like a very becoming steamboat. This most unique among the Lancaster PA hotels will welcome you with three elegant decks of charmingly decorated rooms with Victorian and Nautical themes.
Our hotel, surrounded by a serene milieu providing an authentic riverboat feel, will inspire a relaxing, yet exciting atmosphere.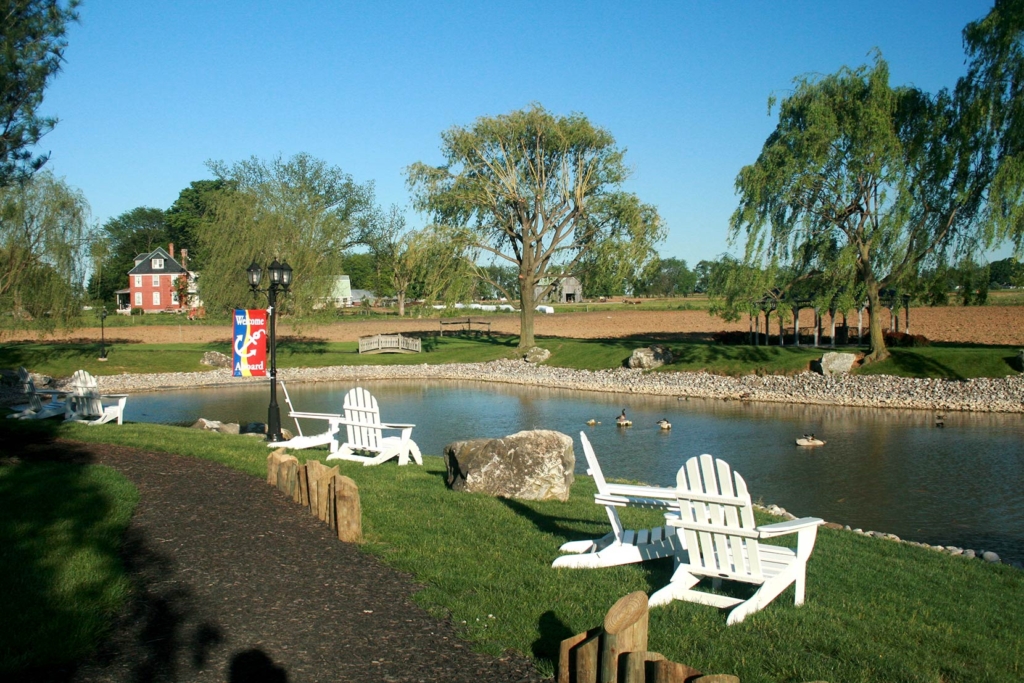 If you love nature, rest assured you're going to love our duck and koi feeding pond and a fire-pit and patio overlooking beautiful Lancaster County Farmland. Take an invigorating morning stroll by the pond, relish the sunsets by the fire, and make many amazing memories!

Lovely accommodation, comfort and cleanliness is also something that is highly important to most visitors, and you'll be able to find it at The Fulton Steamboat Inn!
After a long day of exploring, adventuring, and having lots of fun, wouldn't you enjoy relaxing in our indoor pool and whirlpool?
Our amenities also include a fitness center, game room, complimentary Wi-Fi Internet access, Blu-Ray DVD players complete with a DVD Library.
If you're traveling with kids, they'll be happy to hear there's a playground for them right outside the hotel. JR First Mate's Happy Harbor Landing Playground will make any family's stay even more pleasant and memorable.
As always, food and drinks seem to also be an important part of a visit or gateway. We're happy to report that both are very much available, right here at the Fulton Steamboat Inn.
The Steamboat's Huckleberry's Restaurant features great food, and also a great piano player who will enhance your Friday and Saturday afternoons and evenings!
For guests who like Happy Hours, the Steamboat's Tavern welcomes you from 4pm-6pm. Enjoy Happy Hour menu appetizers and drink specials that are both delicious and a great value.
Finally, even if you're doing shopping on a larger scale at the nearby stores and outlets, it's good to know that you can always buy a last minute gift or a souvenir for yourself without even leaving the hotel's site. Fulton Steamboat Inn has a gift shop for your convenience. The Emporium Gift Shoppe offers PA Dutch Country souvenirs, local specialties, such as Kitchen-Kettle jams, chocolate-covered pretzels, many handmade arts and crafts, Lancaster County quilts and much more.
So next time you come to explore beautiful Lancaster County – we'd love to welcome you aboard the Fulton Steamboat Inn!