Lancaster County, PA has so much to offer to visitors and locals. There's the rural, peaceful beauty; urban, vibrant scene; old traditions meeting modern trends, and much more in between, that will make your visit memorable.
Next time you are in Lancaster come enjoy a lovely, calming, and feel good stay at the Fulton Steamboat Inn.
The hotel is surrounded by the dreamy landscape of Lancaster County farmland and sounds of nature and water, making us an ideal destination for a relaxing getaway.
A charming koi pond awaits you here, where fish of dazzling colors swim carefree. Now, in addition to our resident koi, we are happy and proud to present to you our other co-habitants – lovely ducks.
First thing you should know is that we like to keep our ducks as comfortable and happy as our passengers!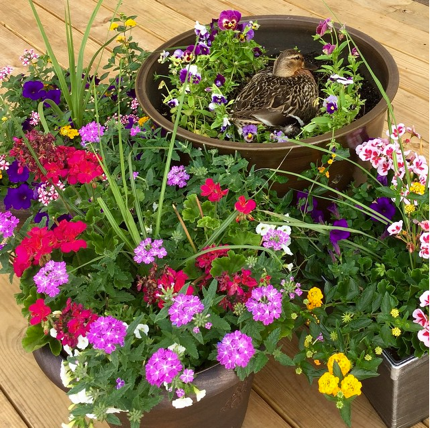 Yes, our ducks are most welcome here and enjoy our grounds, just like our patrons.
Now, have you ever wondered what the ducks do throughout the day? Well, we followed some of our feathered friends around to find out what they are typically up to.
It seems that the ducks like to wake up early to watch the sunrise, as they take their first swim in the pond fountains to refresh for the day.
Ducks do take their exercise seriously, and we saw them going for a nice morning walk around the pond and farm. Then, they were ready for their breakfast, so off they went to find some good food.
Oh, and ducks definitely like to watch the kids play in our fun outdoor play area, JR. First Mate's Happy Harbour Landing Playground. After all these early day activities, our ducks were ready to take a little nap under the willow trees.
Well rested, ducks are ready for an afternoon snack. So, they will charm their way and smile at our visitors, who usually cannot resist their natural charisma. And, they have certainly figured out we keep this food dispenser right there!
As if that is not enough alluring, they were seen many times taking a nonchalant walk and sneaking into our lobby to say hello to our nice crew member Arlene, knowing she will succumb to their charm, too, and give them a little treat or two.
Mid afternoon is time for another exercise, this time with some socializing to go with it, as captured by one of our guests.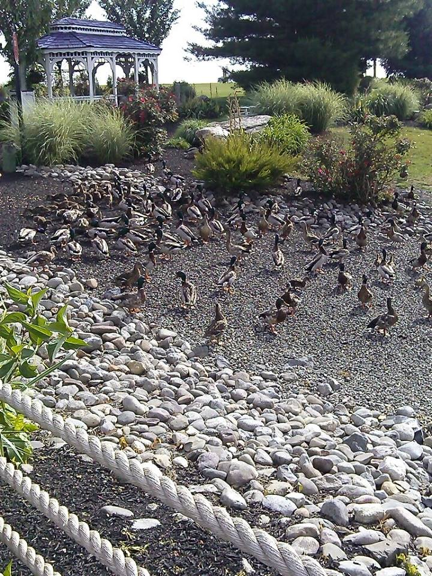 Ducks met with their other duck friends for a "chat & walk" session, followed by a frolic in the pond at the front of the boat. Here, they like to watch humans in the indoor swimming pool, to see who swims and frolics better.
Well, that deserved another nap. This time, they were seen dozing off under the biggest evergreen trees; we think the sounds of branches as wind blows through them makes it ideal for the ducks to nap.
Can you guess what came next? Yes, more snacking, which for ducks meant finding more humans to smile at so they can be rewarded with treats.
Nicely full, ducks went off to say hello to their animal friends, who happened to be grazing at the nearby farm.
For the sunset, our ducks enjoyed a peaceful swim as they took in all the beauty surrounding the Fulton Inn.
Finally, it was time for dinner; yes, ducks were seen again charming their way into getting more corn from humans.
So, as you can see, not a bad life our fellow ducks live, wouldn't you say?
What's more, we were recently blessed with brand new ducklings, too! Here they are getting their first swimming lessons in our moat.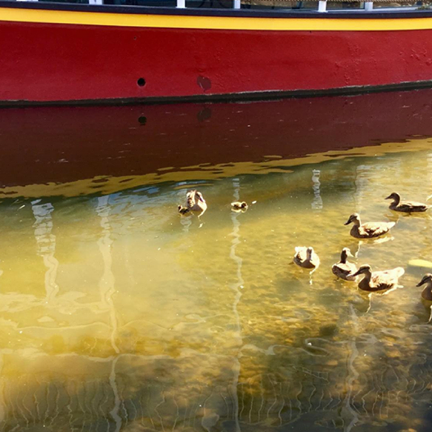 Escape the everyday hassle by staying at the most peaceful and charming hotel in Lancaster, Pennsylvania.
Fulton Steamboat Inn welcomes you with its warm and inviting ambience and interesting and unique design and history, not found in other hotels in Lancaster, Pennsylvania.
From beautiful outdoors, featuring walking trails around the duck and fish pond, cozy seating areas with a fire pit for picnics or quiet sunset watching, to three elegant decks featuring delightfully decorated Victorian and Nautically themed rooms, from friendly and helpful staff to amenities designed to make you feel comfortable and pampered, Fulton Inn will make you forget any worries you may have come with.
You'll find wonderful food, drinks and entertainment right here, too. And, let's not forget the Indoor Pool and Whirlpool, where you'll rejuvenate and revive as ducks outside take notice of it all.
Fulton Steamboat will embrace you with its romantic, relaxing and nostalgic feel, and offer many amazing qualities that will turn your vacation, or a weekend getaway, into a memorable experience. Our friendly ducks will add to that, we are sure.
Welcome aboard the most unique among hotels in Lancaster, Pennsylvania! Book your "steamboat fare" today.
We love our duck friends so much that we created this awesome visual story to depict their day!