We think every month of the year is a great time to visit Lancaster County, and the holiday season is no exception. The region's heritage of hospitality really shines at the holidays, and the sparkle from all the lights and festivities are sure to put you in the holiday spirit. Whether you're booking a stay at the Fulton Steamboat Inn to visit family and friends or for a special getaway, you'll find that there is no shortage of local, family-friendly activities where you can create lasting memories.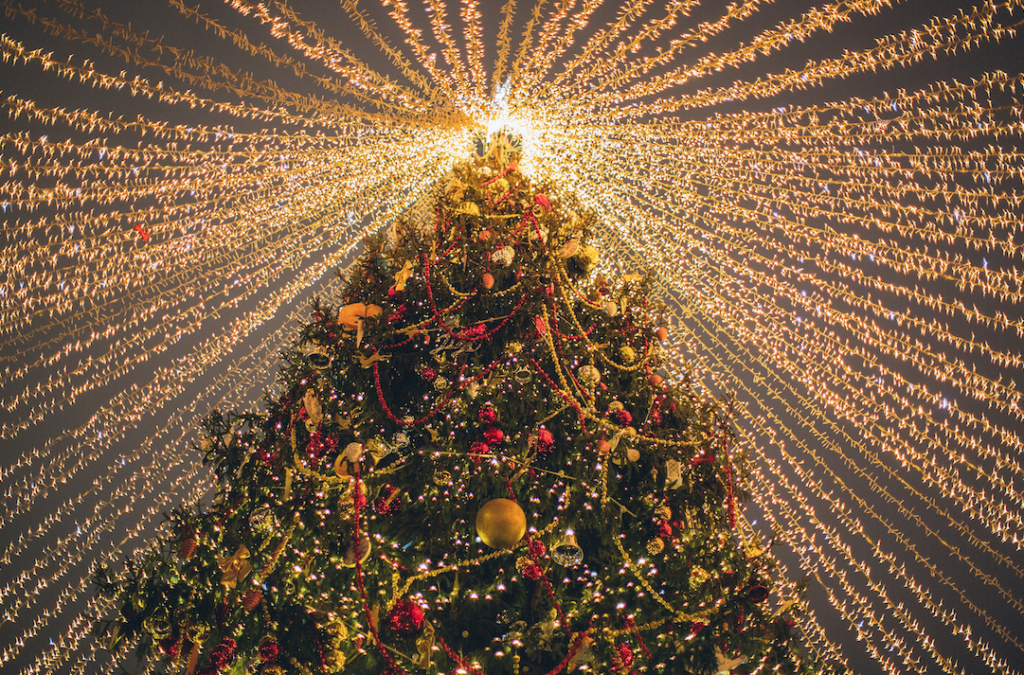 Strasburg Railroad
Whether you're a longtime train lover or not, a ride on the Strasburg Railroad is a must and just might ignite a fresh fascination for trains and their incredible history. Passengers can take a ride on larger-than-life steam locomotives year-round while taking in spectacular views of rolling farmland. Special events for the holidays at Strasburg Railroad include opportunities to ride in the coach or dining cars on Santa's Holiday Express, Night Before Christmas train experiences, Christmas Caboose charters, and more. This destination is only a 10-minute drive from the Fulton Steamboat Inn.
Amish Farm and House
Another great stop just a short way down the road from the Fulton Steamboat Inn is the Amish Farm and House, where you can buy tickets to a Santa and Goats activity and have a photo taken with not just Santa Claus but some adorable baby goats. If you're traveling with pets this is a great stop for you as the farm is pet-friendly so four-legged friends can join the fun. The Amish Farm and House also hosts a popular Amish Christmas Cookie Tour where participants can visit authentic Amish homes to sample cookies.
Kitchen Kettle Village
Kitchen Kettle Village is a perennially popular destination for people of all ages with good reason: there is so much to see and do all in one spot! Located in Intercourse – just a short drive from the Fulton Steamboat Inn – the village has more than 40 local shops in one outdoor village for you to peruse and find unique, specialty gifts. Kids will love meeting Yummie, the life-size gingerbread mascot of Kitchen Kettle Village. Buggy rides and horse drawn carriage rides are a fun way to see the area. Food options abound at Kitchen Kettle Village for both meals and to take home or gift, including lots of homemade Pennsylvania Dutch sweets like pepper jam and whoopie pies at the Jam & Relish Kitchen. Check out their lineup of winter holiday events including Dinner with Mrs. Claus and Holiday Tasting Tours.
Strasburg Scooters
If you're looking for adventure and a unique way to see and experience the beauty of Lancaster County's countryside, complete with Amish farms and schoolhouses, sign up for a tour with Strasburg Scooters. For the holiday season, they offer Scootin' with Santa tours on the weekends that feature jolly old Saint Nicholas himself leading the way in a red scooter instead of his usual sleigh.
Dutch Wonderland
At Dutch Winter Wonderland, you can take in thousands of twinkling lights adorning the family-favorite amusement park conveniently located a few miles from the Fulton Steamboat Inn on Lincoln Highway. More than 20 rides and attractions will be decked out for the holidays and ready for you to ride. To make things even more magical, you can take advantage of special events where your children or grandchildren can meet and have cookies and milk with Santa Claus, Princess Brooke, The Knight of Safety, Merlin, and Duke the Dragon in Merlin's Restaurant.
American Music Theatre
American Music Theatre is located less than a mile from the Fulton Steamboat Inn, and the 2021 Christmas Show: Winter Wonderland is a critically acclaimed live music production that will transport audiences to a Bavarian mountain village and to the holiday excitement at the North Pole. The two-hour show is great for all ages and features both sacred and secular holiday songs with all live performances by singers, dancers, and the American Music Theatre orchestra. Order tickets online or call the Group Sales Department at 800-648-4102 if you'd like to find out about discounts available for groups of 15 or more.
Shopping at The Shops @ Rockvale and Tanger Outlets and nearby towns
Whoever you have on your list to shop for this year, you are sure to find something special while shopping in Lancaster. Pop over to The Shops @ Rockvale just across the road from the Fulton Steamboat Inn or drive less than a mile to Tanger Outlets for even more great deals and finds. Antiques, boutiques, and lots of other unique stores are ready for you to explore during your time here as well if you drive to any of the quaint towns nearby like Strasburg, Lititz, and downtown Lancaster.
These ideas are truly the tip of the iceberg when it comes to fun family activities to do in Lancaster, PA during the winter holiday season. Our staff would be happy to help you find more information about local attractions and eateries to make your stay at the Fulton Steamboat Inn as perfect as possible.
With our unique steamboat designed hotel with nautical and Victorian-themed guest rooms and extra amenities, your whole family will love visiting the Fulton Steamboat Inn in beautiful Lancaster County.
Make a reservation online today or by contacting us at (717) 299-9999.
* While booking experiences in the Lancaster/Central PA area during your stay at the Fulton Steamboat Inn, be sure to review the specific websites carefully to ensure their hours of operation, capacity limits, etc. are up to date and accurate.