At Fulton Steamboat Inn, it's knowing our guests have fun and relaxation in the hotel's elegant and tranquil environment that fuels our passion and dedication.
Whether you're a visitor or a local looking for a weekend gateway in Lancaster County – here's a guide we put together with suggestions on how to spend a memorable and fulfilling 48 hours in the area.
Plan to start your fun weekend with check in on Friday at 3pm. As soon as you enter the Fulton Steamboat's beautiful setting, you'll be able to feel an authentic riverboat ambience, as we welcome you with refreshments in the lobby inside one of the most unique hotels in the area.
The Fulton Steamboat Inn's design is a tribute to Lancaster's favorite hometown engineer, Robert Fulton, who invented the first steam-powered ship. The hotel looks like a majestic steamboat, with three elegant decks of charmingly decorated rooms featuring Victorian and Nautical themes.
After you've unpacked, come on down for a refreshing walk around our duck safe haven and koi fish feeding pond. Enjoy autumn air, colorful leaves, and abundant nature from our lovely patio overlooking picturesque Lancaster County Farmland. Take in all the beauty and sweetness of your leisure time as you lounge around the fire pit.
As your appetite builds, rest assured you and your loved ones will have plenty of food and drink options at the Fulton Steamboat. Have dinner at Huckleberry's Restaurant and Tavern, and enjoy some live piano entertainment, offered on most Friday and Saturday evenings.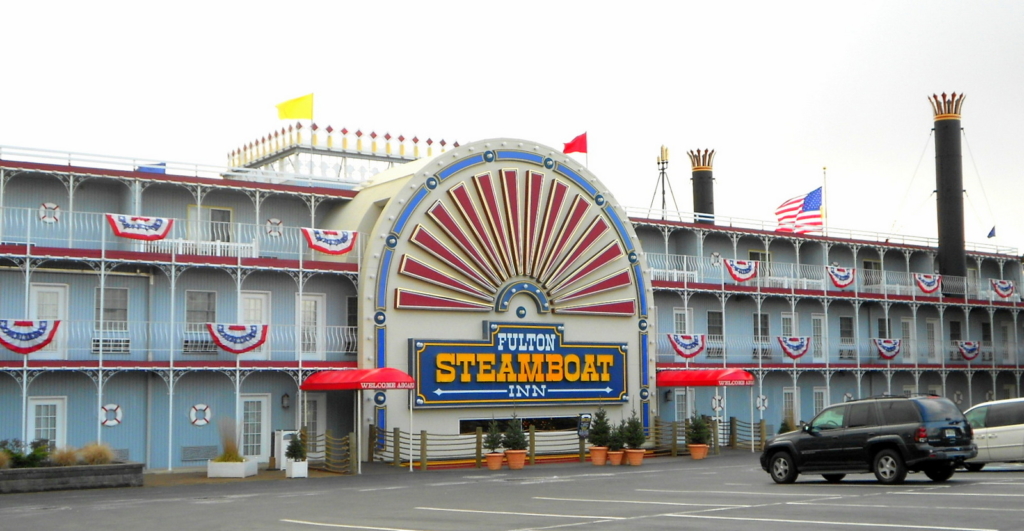 Photo credit: https://gcaggiano.wordpress.com/
Visit nearby towns including Strasburg, Bird-in Hand, Intercourse and the ever popular historic downtown Lititz where every second Friday the town puts on an event called "Lovin" Lititz.
Selecting Fulton Steamboat Inn as your lodging means you'll be centrally located in the splendid Lancaster Country, with easy access to shopping, restaurants, family fun and cultural attractions, including the beautiful and serene Amish Country.
After breakfast, stop at one of the artisan stores, or wander through the many beautiful orchards and corn mazes – this is the harvest time, after all!
Next, visit one of the amazing local farmer's markets, such as the Central Market in downtown Lancaster, or Green Dragon in Ephrata. Here, you can get homemade crafts, souvenirs and gifts, and savor abundant local produce and seasonal baked goods, such famous whoopie pies, and sip warm apple cider.
Now that your taste buds have been teased, come to The Steamboat's Tavern for drinks and specials you won't want to miss – including our popular Happy Hour, so make sure you're here from 4pm-6pm!
After a fulfilling day like that, relax by our sparkling indoor pool and whirlpool, open to the whole family until 10pm, and for adults only from 10pm until midnight. Also, if you're traveling with your sweetheart or friends, our 3rd floor 'Sun Deck' is reserved for adults only.
Visit one of many local attractions, festivals, and family events – just ask us about what's happening at the time of your visit. Our friendly and helpful staff and our well-known hospitality will make your stay even more special.
The Fulton Steamboat Inn invites guests to "Come Onboard!" the most unique hotel in Lancaster PA – book your "steamboat passage" in one of our staterooms today.