Fulton Steamboat Inn has plenty to offer to their guests who come to stay onboard this steamboat-look-alike hotel, but also to those who like the atmosphere of great food and entertainment in the hotel's restaurants.
Huckleberry's Restaurant inside the Fulton Steamboat Inn is a fun and relaxed place offering delicious meals for the whole family.
Huckleberry's Restaurant offers Whole Grain Pancakes on their Breakfast Menu.
For some people, it's the matter of taste; they select their food first and foremost based on how delicious it is. For others, it is all about how healthy it is.
Now you can rest assured this addition to the breakfast menu at the Huckleberry's Restaurant has both qualities to offer – their fresh made Whole Grain Pancakes are equally good for you and your taste buds!
What are health benefits of whole grain pancakes?
If you are looking for a healthy breakfast that's also delicious – whole grain pancakes are one of the most popular choices!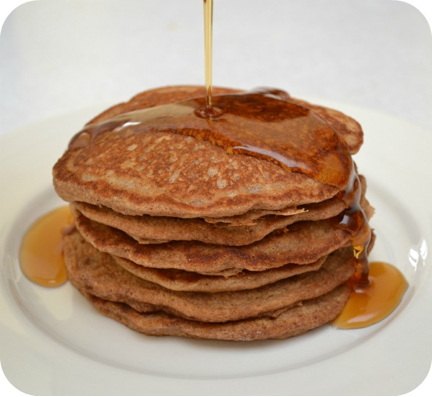 Let's look at some health benefits; actually let's compare plain, or white flour pancakes to whole wheat or whole grain pancakes…
Whole-wheat flour, like all whole grains, is a good source of carbohydrates; they will turn into glucose, which is the preferred source of energy for the brain and will help you be alert and keep you in a good mood throughout the morning.
Whole grains are also a good source of fiber, both soluble and insoluble. Soluble fiber, which dissolves in your digestive system, helps slow absorption of sugar into your blood and can lower cholesterol. Insoluble fiber does not dissolve; it helps you avoid constipation.
According to The University of Georgia Health Center, fiber in whole grains helps you feel full, helping you with weight maintenance and weight loss.
Whole-wheat flour is an excellent source of B-vitamins, except for B12, which is found in food from animal sources – so the eggs and milk in the pancakes supply B12, also in vitamin E.
A portion of about 1 1/2 pancakes, 6 inches in diameter, contains 6 grams of protein, and only trace amounts of fiber.
A serving of whole-wheat pancakes, however, provides 3 grams of fiber and 8 grams of protein. This will help keep you full for longer, and you won't have the need to consume as many calories throughout the day.
Although plain pancakes are a good source of vitamins and minerals, whole-wheat pancakes have higher levels of calcium, iron, phosphorus and riboflavin.
So, come join Huckleberry's Restaurant for their yummy breakfast – and see for yourself what eating whole-grain pancakes is all about.
Not from Lancaster County PA? Looking for Lancaster County Hotels? Book a room at the charming Fulton Steamboat Inn, get your directions, then start planning all the fun things you can do once you get here – including enjoying the delectable food at the Huckleberry's Restaurant.
If you're a local of beautiful Lancaster County PA, looking for a pleasant ambient and tasty food for breakfast, lunch or dinner – we have you covered at the Fulton Steamboat's Huckleberry's Restaurant.
We welcome you aboard the Fulton Steamboat Inn!