Summer is finally here, inviting, embracing, and full of possibilities. Summertime equals exciting time – vacations, no school, great weather, and lovely inspirations to have fun as well as to relax and feel revived.
Many of us love to travel in the summer, to explore new exciting places, visit with friends and family, or simply go to our favorite destinations and let the warmth and beauty of summertime recharge us.
Lancaster County PA offers visitors and locals many wonderful qualities to turn a vacation, or a weekend getaway, into a memorable experience. From rural tranquility to urban, eclectic energy, there's so much to take in and appreciate.
Vacations often tend to become all about "so much to do", with numerous "musts" and "shoulds". Then you go back to your daily life of work or school feeling more drained than refreshed.
"Take rest; a field that has rested gives a bountiful crop." – Ovid
Travel doesn't have to be a non-stop activity train; sometimes all you need is to relax somewhere new or different. Next time you come to Lancaster PA, how about a nice, soothing, and worry-free visit, where all you have to do is feel good and relaxed?
Escape the everyday hassle by staying at the most peaceful and charming lodging in Lancaster PA!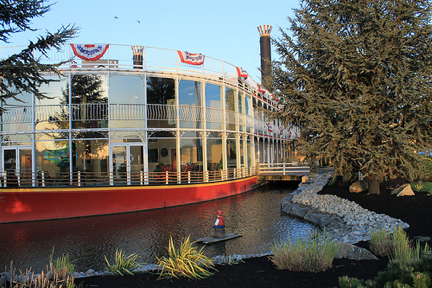 Fulton Steamboat Inn welcomes you with its interesting history, unique design and feel, and the ambience that will make you want to extend your stay.
From friendly and helpful staff to amenities that are designed to make you feel comfortable, you will realize that, here, you have everything you need, so you can start focusing on the lovely things around you.
The summery landscape surrounding the hotel, the charming backdrop of Lancaster County farmland, and the sounds of nature and water, provide a perfect environment to start relaxing as soon as you check in.
There's a lovely koi pond where you can watch these vibrantly colored fish swim without a worry in the world. Ducks are also local inhabitants and may come to visit and make you smile, and you can feed them if you like.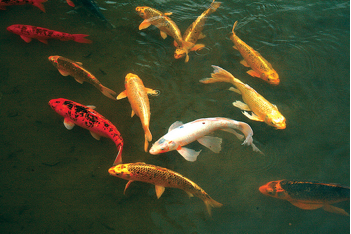 Around the pond are walking trails, where you can go for a nice stroll, as you take in the beauty and serenity of the place. You'll find cozy outdoor seating areas where you can absorb some sun during the day, or enjoy the warm summer nights, as you watch the sunset. Use some of your vacation time to do what you love to do, something that recharges you and gives you new energy; maybe it's working on your book, playing the guitar, meditating, or hiking. At hotel's outdoor area you'll find a fire pit, too, so you can enjoy the crackling of the fire as you watch the flames, or make lots of s'mores.

For kids, there's JR. First Mate's Happy Harbour Landing Playground, a fun outdoor play area where they can play for hours, while you lounge in the sun and read your book or watch them have fun.
When you get hungry or thirsty, worry not – great food, drinks and entertainment are right there for at the Fulton Steamboat Inn.
And at the end of a long day, rejuvenate in the hotel's Indoor Pool and Whirlpool.
If you do decide to venture into the local scene, Fulton Inn is located close to many of Lancaster County's attractions.
Whether you're a visitor or a local looking for a peaceful Lancaster Pennsylvania lodging, we invite you to spend some relaxing and refreshing time with us.
Fulton Steamboat looks like it is about to take you out into the waters. Since it looks like a steamboat, it has that nostalgic, romantic feel about it. With three elegant decks that host beautifully decorated Victorian and Nautically themed guest rooms, it evokes authentic riverboat atmosphere.
Welcome aboard the Fulton Steamboat Inn and experience the most unique lodging in Lancaster PA.
Book your "steamboat fare" today: http://www.fultonsteamboatinn.com/about/