When visiting another place, do you enjoy exploring history and tradition of the area? Are you more interested in family friendly events, or exploring the local shopping scene? Or, would you rather just relax in your hotel, maybe by the pool or in a Jacuzzi, and then go to a nice dinner and a concert or a show? And, maybe it's all of the above.
Your trip to Lancaster, PA will be delightfully enriched if you join in some of the great local happenings, and trust us when we say there's something here for everyone to enjoy!
At Fulton Steamboat, we continuously strive to be a leader in the hospitality industry and the most unique, full service hotel, and believe in the benefit of providing valuable info to visitors and locals not only about lodging in Lancaster County but also about local attractions.
So, we created a new video to showcase some gems that are happening around Fulton Steamboat!
You'll see that we're situated within a short walk or drive from so many amazing attractions and things to do and explore in Lancaster, PA.
Just minutes from us you can have a memorable experience with a 45-minute, round-trip ride through the peaceful Amish countryside in the larger-than-life locomotives at Strasburg Rail Road. Enjoy the ride as the train whistles across 1,000 acres of farm fields, and treat yourself to an extra amazing time aboard their First-Class Cars.
 If you're traveling with children, a great place to spend a day will be in a land of fun characters, attractions and shows, in a nearby Dutch Wonderland. You'll have plenty of opportunity to have fun in this exciting theme park, and there's something for everyone in the family. From the Duke's Lagoon water play area, to live entertainment, Dutch Wonderland is the place "Where Kids RULE!"
Plan a nice dinner in one of Fulton's restaurants, and then catch a show at American Music Theatre. This 1,600-seat theatre is one of its kind in the country, featuring both touring concerts and Original Shows. Or, pay a visit to incredible Sight & Sound Millennium Theatre, one of the most popular tourist attractions in Lancaster County, Pennsylvania, and one of the most popular live theatres in the Eastern US.
In the mood for shopping? Make sure you visit two Lancaster outlet shopping hot spots, Tanger Outlet Center and Rockvale Outlets Lancaster, located along Route 30, just minutes from the Fulton Steamboat Inn.
If you'd like to venture a little further and explore other attractions, take a half hour trip to the amazing Indian Echo Caverns in Hummelstown, PA. You'll find sparkling crystal clear underground lakes and ponds, caverns with impressive limestone formations, cozy passageways, and a bounty of natural and mystical beauty. Also, there's a gem mill on the property with many geological wonders for you to uncover.
Discover the timeless charm of Dutch Country and the quiet beauty of the Amish Country; stroll along the quaint streets of local towns of Lancaster, Lititz, and Ephrata – and create lasting memories as you make Fulton Steamboat your home away from home.
We are conveniently located by the Route 30 that will take you to all the great destinations we mentioned, and many more. We're passionate about not only providing excellent hotel experience, but also great content for our visitors, and we'll be happy to help you find more things to see and do, and make your stay at Fulton Steamboat even more enjoyable!
So start planning your next visit to beautiful Lancaster, PA, or, your next weekend getaway if you're a local – all your answers will be found when you stay in a Lancaster hotel that is as distinctive and splendid as the area.
Our guests love Fulton Steamboat's distinct look, history, ambience, service, amenities, and location. We're excited to show you why Fulton Steamboat Inn is just the right lodging for you and your dear ones!
You'll be surrounded by a tranquil setting with walking trails offering the view of the lovely Lancaster County farmland, an outdoor patio with a fire pit, children play area, and an enchanted koi and duck feeding pond.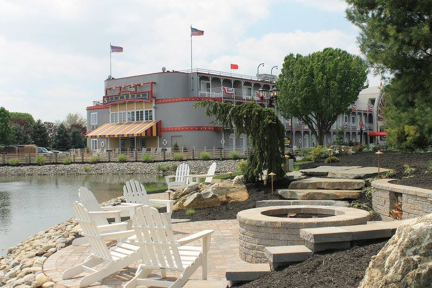 Fulton Steamboat's elegance, superb comfort, amenities, cleanliness and service await you to enhance your stay.
We invite you to check out our Video Gallery today and see and learn more about our hotel and the area.
When you're ready, book your "steamboat fare" and join us aboard the Fulton Steamboat Inn!