When spring embraces us with its warm and fragrant air – it's time to take a trip, explore the nature and have some fun.
For your next visit to magical Lancaster PA, choose the Fulton Steamboat Inn and make your stay as magical!
The area where the unique Steamboat Inn is located has so much to offer – from the famous Amish Country farms, stores and the Amish Museum, to many shops and outlets, family attractions, and local charming towns – all right there to make your stay even more memorable.
Now, as far as your stay, let's look at some wonderful things that await you at the Steamboat, the most unique among hotels in Lancaster County PA.
First of all, the design and the ambience stand out from the crowd. Fulton Steamboat provides the feeling of embarking on a real steamboat that's about to take you on a journey along a river. There are three elegant decks with charmingly decorated Victorian and Nautically themed guest rooms, welcoming you with their classy, yet comfortable décor.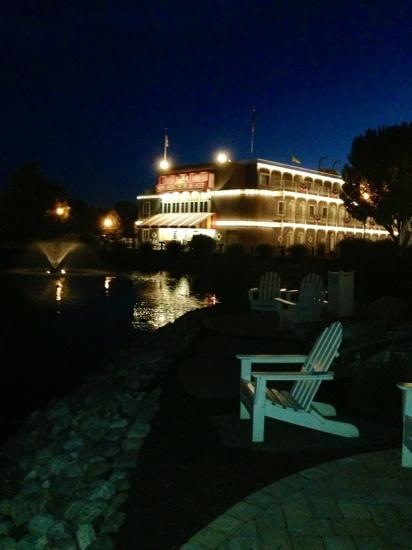 The Steamboat's setting is almost like in a fairy tale, especially in the springtime – walking trails around the koi pond, a fire pit, soothing and charming backdrop of Lancaster County farmland, and lots of great spots to enjoy the sunsets.
The beautiful koi and duck-feeding pond has inspired so many of our guests with its timeless, natural beauty.
If you're traveling with kids, rest assured there's a place for them to have fun and play – JR. First Mate's Happy Harbour Landing Playground, right outside f the hotel.
At the end of a long, activity-packed day, we have just the thing to refresh and relax you: our Heated Indoor Pool and Whirlpool!
And it's not just the amazing setting, amenities and service that will make your stay here memorable, it's also the food and the entertainment that the Fulton Steamboat Inn offers – and, yes, this includes a Happy Hour in the Tavern!
We also have an abundance of information about local seasonal events and specials to help enhance your visit.
Last, but not least, the Fulton Steamboat Inn has a gift shop. At our friendly store, Emporium Gift Shoppe, you can select a Pennsylvania Dutch Country souvenir or a themed Fulton Steamboat Inn gift, or treat yourself to locally made products!
Spring is fully in the air, and so many lovely things to see and do await you. Now you know why spring at the Steamboat is more magical than in any other hotels in Lancaster PA.
Book your Fulton Steamboat Inn for an authentic riverboat inspired experience, and start planning your magical trip today!
Call us at (717) 299-9999 or visit us online.