Long before trains, cars, trucks and airplanes, rivers and seas were used for travel. When steam-powered boats were invented, they revolutionized river travel and trade, and dominated the waterways.
We have all most likely heard the story of Robert Fulton inventing the steamboat and sailing the Clermont down the river. Well, that's not quite how it happened.
As far as the actual invention of the steamboat, American John Fitch is responsible for it. In 1787, he built a 45-foot steamboat and sailed it down the Delaware River, while members of the Constitutional Convention watched.
However, steamboats were expensive to build and to operate. Sadly, just like many other moments in the history of invention, lack of money prevented Fitch to turn a profit on his invention.
Robert Fulton, American inventor, engineer, and artist lived in Paris at the same time his friend, Robert Livingston, served as the American ambassador to France. Livingston knew about Fitch's troubles, so he invited Fulton to come back to the U.S. Fulton, who had designed an experimental submarine, decided to give it a try.
"The Clermont" – the first steamboat in public service, was the combined effort of Fulton and Robert Livingston. Fulton invented a way to make steam powered boats not only practical, but also profitable.
Even Fulton didn't get it right the first time. His first attempt in 1807 – voyage of the Clermont – failed. After some fixing, Fulton was able to get the boat up and running, and the small steam-powered floater made a journey from New York to Albany. At a speed of five miles an hour, it took 32 hours.
The age of steamboats was born, and soon there were several types of steamboats.
During the 19th and early 20-th century, showboats, the floating palaces, traveled along the rivers bringing plays and music to local towns. Many were beautifully decorated and housed theaters, galleries, ballrooms, and saloons.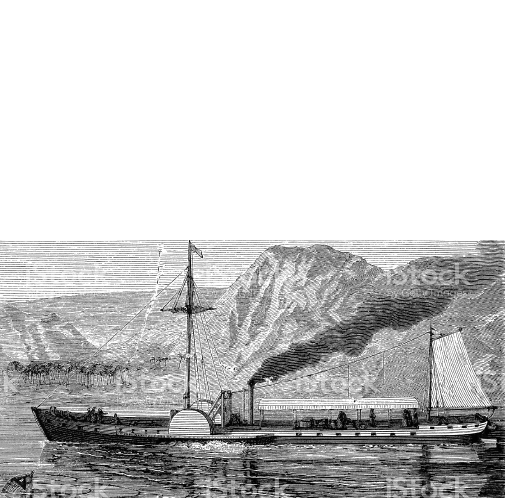 The Showboat "French's New Sensation."
One of the most important types of steamboat was the snagboat. They patrolled the rivers and removed snags – a sunken tree, stump, or boat wreck, so they don't cause damage and wreckage to other boats.
One of the most common boats on the South's rivers was the packet boat. Packets were very important since they carried crops up and down the rivers, and they carried people. Many of them had a first class deck for passengers who could afford to travel in relative luxury.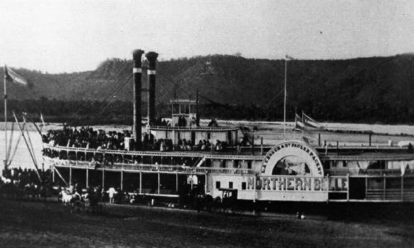 The Northern Belle, a Sidewheel packet
Steamboats definitely ruled trade and travel in the 1800s and early 1900s; however, they began experiencing competition from railroads as early as the 1830s.
Even though steamboats can no longer be seen journeying along the nation's rivers, they remain one of the most important advances in United States technology.
Fulton Steamboat Inn looks like a boat, a steamboat to be precise, but instead of steam, noise and movement, what's offered here is a tranquil environment, with ducks, a koi pond and lovely accommodation with great food and entertainment.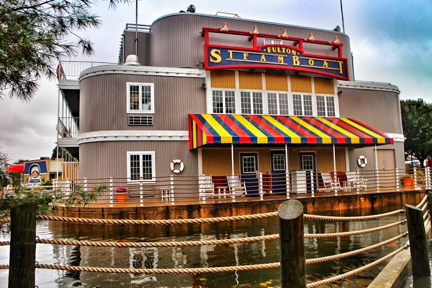 Photo Credit: Cat Morley
Here, three elegant decks of beautifully decorated Victorian and Nautically themed guest rooms boasting authentic riverboat inspiration await you.
Some guests occasionally ask us if we are a real boat, or when we converted the boat into a hotel.
Robert Fulton, an American engineer and inventor who took steamboating from the experimental level to commercial success, was actually born just a few miles from our very location. In honor of his achievements, our unique hotel in Lancaster County PA was named – the Fulton Steamboat Inn!
Whether you're a local looking for unique places to stay in Lancaster PA for your getaway, or a visitor coming to explore beautiful Lancaster County – we have just the lodging for you.
Welcome aboard the Fulton Steamboat Inn for the best lodging among unique hotels in Lancaster PA.
So come on over and see for yourself – we believe you'll like our contribution to American "steamboats"! Book your "steamboat fare" today.
Article Source.