Spring is the season when nature and all beings start to awaken, renew, and flourish into more aliveness and beauty. Springtime in Lancaster, PA is reminiscent of a fairy tale, with budding rolling hills and horse and buggies, fragrant air, cherry blossom lined streets of vibrant and eclectic places, and people with spring in their steps.
It comes as no wonder that many people decide to visit Lancaster County in the spring. Whether you're visiting for the first time or you're a frequent guest, finding the right hotel for your stay can make all the difference.
At Fulton Steamboat Inn, we believe with passion that our guests should be able to relax, rejuvenate, be pampered, have fun, and create lasting memories while staying in our hotel.
So, we go about our days looking for ways to keep you, our patrons, happy, and to enhance your experience while lodging with us.
Fulton Steamboat Inn is situated in the splendid PA Dutch Country, on Route 30 that will take you to dozens of artisan shops, restaurants, family fun and cultural attractions, including the beautiful and tranquil Amish Country.
There's so much to explore and experience here, from the quiet, pastoral beauty to the buzz of the nearby city of Lancaster and other local towns. Our friendly and knowledgeable staff is happily waiting to help you with resources and pamphlets for local festivals, family events, and all kinds of attractions.
Fulton Steamboat Inn, the most unique among Lancaster PA hotels, looks like a very pretty steamboat, with three elegant decks of charmingly decorated rooms featuring Victorian and Nautical themes.
We love to welcome our guests with refreshments, and they are available in the lobby as you enter or leave the hotel.
From the distinct design, excellent amenities, comfortable and elegant accommodation, warm and inviting ambience, to the superior service, all of our patrons are greeted and treated with great care to make their stay exceptional and memorable.
Also, to make it easier and more welcoming to everyone, we made sure all of our guest rooms are fully ADA accessible. 
The Fulton Steamboat is surrounded by a peaceful milieu offering an authentic riverboat feel. If you love nature, we know you'll love our duck safe haven and koi fish feeding pond, so come on and take an invigorating morning stroll or a sunset walk around the pond.
There's a lovely patio overlooking picturesque Lancaster County Farmland. Here you'll find a fire pit, and this time of the year spending an evening by the fire feels so magical!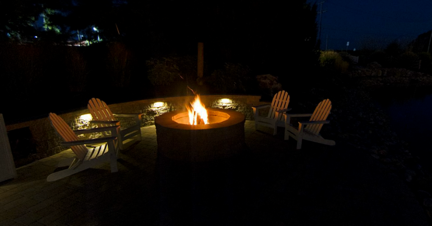 For your relaxation and invigoration, we have a sparkling indoor pool and whirlpool, so after having fun exploring local attractions, make sure you take advantage of their amazing soothing yet energizing powers.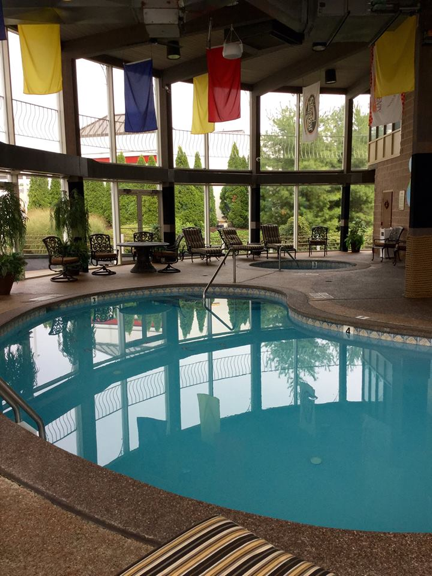 Ensuring your wellbeing and interests are taken care of is important to us, so you'll find that our amenities also include a fitness center, game room, complimentary Wi-Fi Internet access, Blu-Ray DVD players complete with a DVD Library.
We love offering various fun things for our little visitors to see and do, and both kids and parents will be happy to know there's a playground right outside the hotel – JR First Mate's Happy Harbor Landing Playground.
Now, whether you're traveling with your loved one, by yourself, or with family or friends, food and drinks are an important part of your visit or a gateway, and we're happy to report that you'll find both right here at the Fulton Steamboat Inn.
The Steamboat's Huckleberry's Restaurant offers great food as well as a piano entertainment on most Friday and Saturday afternoons and evenings!
The Steamboat's Tavern has drinks and specials you won't want to miss. If you like Happy Hours, make sure you're there from 4pm-6pm!
Finally, a bit of shopping adds to the overall experience of visiting a place to find that perfect souvenir to remind you of your lovely stay or to give to someone as a gift. Get a last minute gift or a souvenir at The Emporium Gift Shoppe right here inside our hotel – from PA Dutch Country souvenirs and local specialties, such as Kitchen-Kettle jams, chocolate-covered pretzels, to many Lancaster County handmade arts and crafts, quilts and much more.
Another way we thought we may enhance your stay with us is by offering some "Guppy" Love!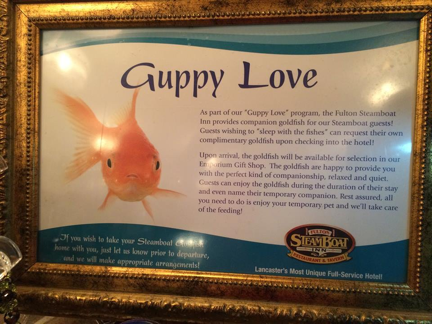 Visit the Emporium to get your guppy, your own hotel pet while on vacation – it's a sweet little way to make kids, and kids in us, smile a big smile. So, don't forget to check out our new fish tank in the Emporium.
With a deep passion for our business, our goal and focus is keeping customers happy because our guests' smile brings joy to us!
On your next visit to charming Lancaster County, PA – let us show you all the things we love to offer so our guests can truly enjoy staying at the Fulton Steamboat Inn!
We'd like to welcome you aboard the most unique among hotels in the area – book your "steamboat fare" today.