The winter holiday season in Lancaster County, PA is plentiful with wonderful things to explore and enjoy. Take in the aromas of freshly baked seasonal treats at local farmer's markets, bakeries and specialty stores. Wander through our beautiful, historic downtown, and pick up a few Christmas gifts along the way.
And, how about making your holiday special this year in Lancaster? Come experience themed attractions, fun events for kids and the kid in all of us, and explore the many ways we celebrate the holidays.
It's not too late to put together an itinerary that is sure to bring cheer to you and your loved ones this winter.
If you are staying at the Fulton Steamboat Inn, one of the most unique hotels in Lancaster PA, here are some holiday festivities that will surely make your stay even more unforgettable:
Hershey Sweet Lights at Hersheypark
Making Spirits Bright every night from November 10, 2017 – January 1, 2018, there are more than two miles of winter wonderland, A Holiday Drive-Thru Spectacular. Hershey Sweet Lights offer nearly 600 illuminated, animated displays you can enjoy from the comfort of your car.
Also, come experience Christmas Candylane – featuring many attractions such as two million twinkling lights, elaborate festive decorations, 50 rides for everyone, including 6 coasters. This year, for the first time ever during Hersheypark Christmas Candylane, enjoy Hershey Triple Tower and SidewinderSM.
Enjoy their holiday show, "NOEL," bursting with festive energy and lights. Visit Santa and his nine reindeer, and get an up-close look at them, including Rudolph!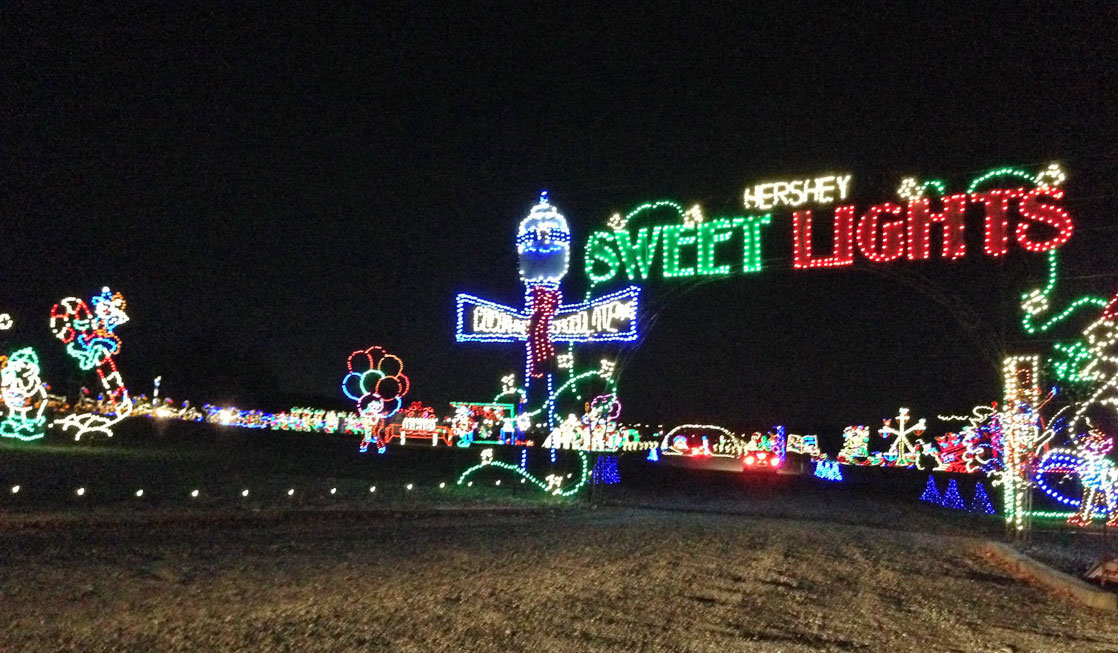 Photo source: TravelingMom.com
Amish Holiday Traditions Tour
Curious about the Amish and their culture that has remained the same for over 300 years? During the month of December, you'll have a chance to learn intriguing facts about Amish holiday traditions and the reasons for their customs.
The Holiday Traditions farmhouse tour can also be combined with the popular Back Roads Bus Tour, a 90-minute narrated tour where you can explore the heart of scenic Lancaster County with an opportunity to visit at least one of their local farm stands, shops or farms, as well as find out about some Amish traditions and beliefs.
Lancaster City for the Holidays
November 24 – December 31, 2017
The official 2017 kickoff of the holiday season begins on November 24 with the Mayor's Tree Lighting in Downtown Lancaster's Penn Square. Carolers, the infamous "Tuba Christmas" and evening hours for Central Market lend to the festivities.
The holiday season includes over 30 special events, activities, celebrations, such as visits with Santa at the Lancaster Marriott at Penn Square, Breakfast with Santa, horse drawn wagon rides and much more. Of course, there's plenty of opportunity to do holiday shopping at over 200 specialty shops, galleries, museums, and antique stores in Downtown Lancaster.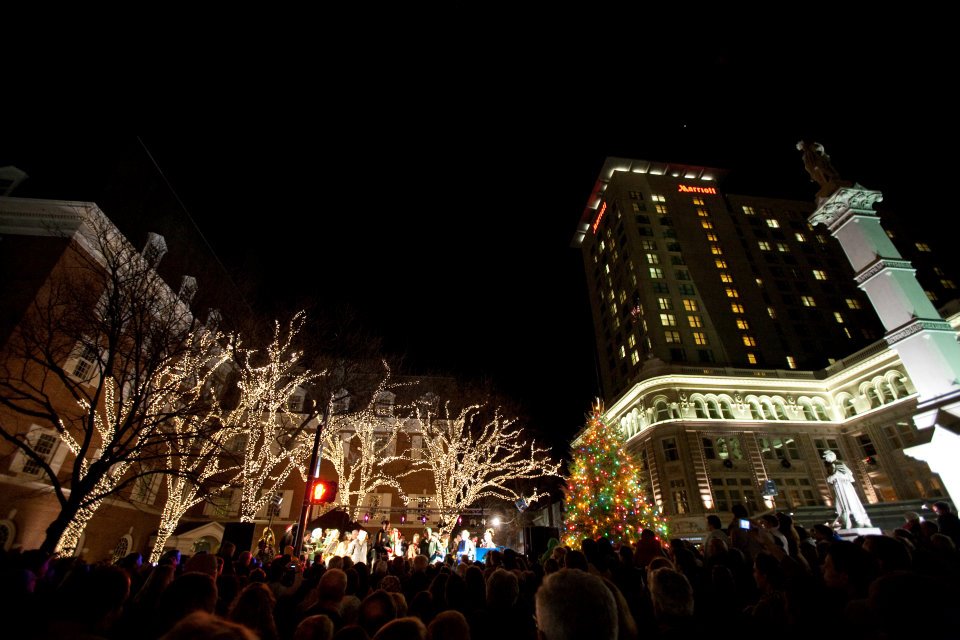 Photo source: festivalsinpa.com
Santa's Paradise Express
Ride the rails of Santa's Paradise Express with Santa and his helpers at the Strasburg Rail Road, where Santa himself will climb aboard and visit with families and everyone who travels. Children ages 11 and under will receive a special gift, and there will be photo opportunities with Santa onboard.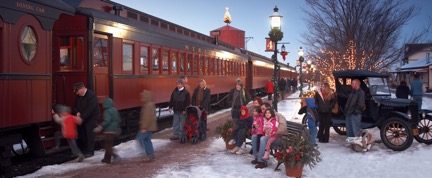 Photo source: www.padutchcountry.com
At the Strasburg Rail Road station, children are invited to listen to storybook readings of holiday classics aboard a warm and cozy stationary caboose! And, kids can enjoy the rides aboard the Tinsel Trolley, a self-propelled motorcar.
If you're looking to experience the true meaning of Christmas on your winter vacation, Lancaster PA offers a variety of shows, such as:
Sight & Sound – Miracle of Christmas
Faith-based Sight & Sound's Millennium Theatre presents the Miracle of Christmas – the Nativity story in larger-than-life fashion with live animals, special effects, and a thirty-foot Christmas tree.
American Music Theater – Home for the Holidays
2017 Christmas Show at AMT is inspired by the warm, cherished memories of family holidays spent together with loved ones. Home for the Holidays offers a rich tapestry of song, dance, and holiday traditions.
Next, enjoy the Santa's Candy Factory where you'll be transported to a dream world of bright colors and Candy Elves. Finally, join the "midnight" candlelight service for some songs of worship, traditional carols, and the powerful, harmony-filled rendition of "O Holy Night."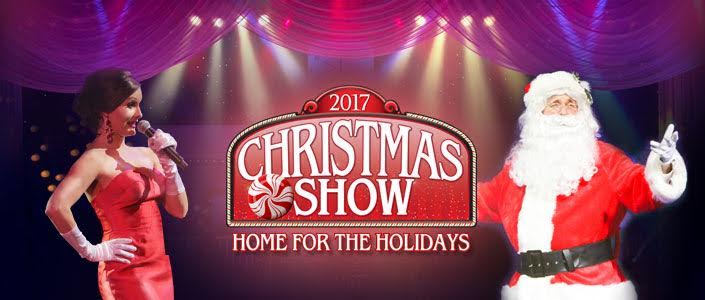 Outside the theater, you'll be greeted with cheery decorations of candy cane wraps, green-lit garland swags, and natural wreaths tied with bright red bows, while the festive decor inside includes the larger-than-life Christmas lobby featuring three Christmas trees exquisitely designed for AMT. Their ushers will be handing out a special holiday gift just for the kids. So get ready to capture all the merriment with lots of family photo ops – before, during, and after the most joyous of holiday traditions!
Lancaster County PA and Fulton Steamboat await you for an excited visit this holiday season – all you have to do is make sure you're staying enough days and nights to experience all these memorable things! Ask us about all the festivities in the area and we'll be happy to provide you with the details.
Make a reservation for your lodging at our charming hotel in Lancaster PA – call us today at (717) 299-9999 or visit us online.