Whether you love to travel and explore new places or revisit favorite destinations, or you have to travel for work, the process of finding good deals, packing, and traveling itself can be quite stressful or challenging.
At Fulton Steamboat Inn, we understand that traveling requires more than just finding good accommodations, so we wanted to highlight things to keep in mind that will help you have your dream vacation.
Here are some tips and hacks for any vacation or travel that will make your life easier:
Pack Smart
Roll your clothes instead of folding them – it will save more space in your luggage and also reduce wrinkling. If you're traveling with a companion, throw a set of clothing in each other's suitcase in case one gets lost.
Pack an extra phone charger (this is the most left behind item); if you don't like to carry bulky chargers, take your phone cord and use the USB port located on the night stand of every Steamboat room or the side of your laptop if you're travelling with it.
Pack an empty water bottle; you won't have to worry about buying a bottle of water – simply fill up your bottle at the hotel's lobby water station. It will come in handy during your travel when you're sightseeing, too. And don't worry if you do forget your water bottle because at the Fulton Steamboat all chilled water is only .50 cents!
And, always bring copies of your important documents, such as your Driver's License, Passport, or ID in case they get lost or stolen.
Work Out Before Travel
Do as much of a good workout as you can the day before you travel – this will prevent jet lag, as well as give your body a good boost before sitting for too long on the plane or in the car. And you can continue your daily workout routine in the well-equipped fitness room located on the adult floor of the Steamboat!
Look for Bargains
 To find cheaper accommodations, airfare, and tours, travel off-season. Also, there are less tourists and more hotel rooms to choose.
Get A Travel Insurance
 Unexpected things can happen, so make sure you're covered. An annual multi-trip travel insurance policy is cheaper than buying on the spot single trip insurance.
Use Technology
Use smart phone apps for everything including travel guides, maps, brochures, and even torches. Some places might not have Internet and you should always save your phone battery for emergencies. It's wise to also carry paper travel maps, etc., since electronic gadgets may fail unexpectedly.
Book Directly
Consider the advantages of booking directly with the business rather than using a third party. Here's why:
Rates are either better or at least equal to the third party site.
Changes/Cancellations are much easier with the business when reservations are made directly.
The business may offer deals (packages) that won't be seen on the third party site that could save you even more money; such as breakfast included, reward points, etc.
The Fulton Steamboat Inn, the most unique among the local hotels, offers the best rate guarantee. Also, we offer AAA and AARP Discount – members receive a five percent discount when reserving our regular rates through our online reservation system. Or become a member of the Captains Club and save on meals, gift shop items, and even room deals throughout the year.
Visiting beautiful Lancaster County soon? We'd love to be your go to hotel for Lancaster Pennsylvania accommodation.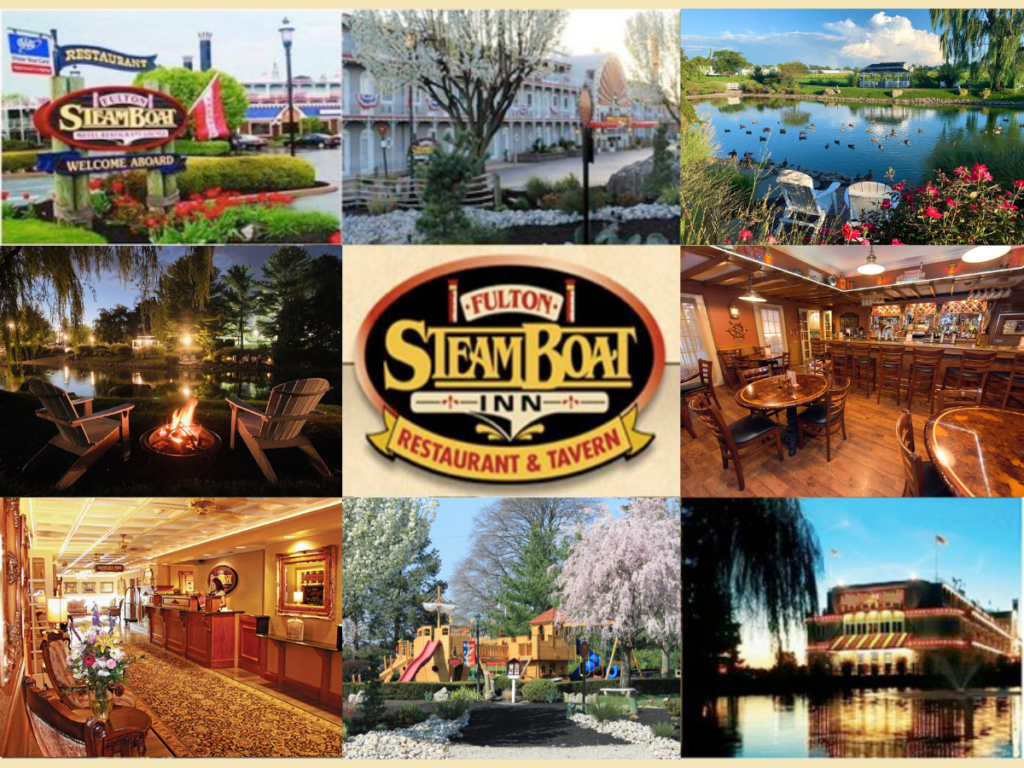 Choosing a Lancaster PA lodging that will make your visit even more memorable is priceless – contact us today to book your "Steamboat Passage" at Fulton Steamboat Inn and find out about the special deals we have onboard.