Wonderful spring season calls for travels and explorations, and weekend gateways.
Whether you're visiting beautiful Lancaster PA for the first time, or you simply keep coming back because it's such a charming and versatile place, or, you're a local wanting to explore the County and have a relaxing night or two away from the every day routine – there are so many ways you can enjoy your visit and your stay at Fulton Steamboat Inn, a conveniently located and full of unique charm hotel in Lancaster PA.
So, if you're thinking of going out and about, we've picked some great things you can do to get to know Lancaster County a little better.
Of course, you are more than welcome to stay in, lounge and relax by our sparkling swimming pool, read a book or watch a movie in your extra comfortable room, indulge in the delicious dishes in our on site restaurant or tavern, or enjoy the fresh air and tranquility of our duck pond with koi fish, fire pit, and hiking trails overlooking lavish scenery.
The Historic Lancaster Walking Tour
Discover the history and beauty of our wonderful city with a guide wearing 18th or 19th century garb representing such dignitaries as James Buchanan and Thaddeus Stevens.
Walking tours are available April through October, so now is the best time to do join in. You'll visit over fifty locations that span over 250 years of Lancaster history. Average tour is 1-2 hours, including an introductory DVD presentation of local history and major sites.
Phone: 717.392.1776
Fulton Theater
The Fulton Opera House, considered to be the nation's oldest continuously operating theatre, is one of only eight theatres to be named a National Historic Landmark.
Beautiful historic theatre combines Broadway caliber musicals, comedies and dramas with the grandeur of ornate Victorian architecture.
Phone Number: 717.397.7425
The Amish Country
Lancaster County for many people means – the Amish Country. There are many authentic places where you can explore this truly different world and their living heritage in the heart of Pennsylvania Dutch country.

Ask us about different tours and ways to experience and learn more about the Amish lifestyle.
Wheatland
Costumed guides will take you on a tour of this historic mansion that was once a home to President James Buchanan. He was the President that held office at the beginning of the Civil War, just before Abraham Lincoln.
Wheatland home and grounds are located next to the Lancaster History Center, in a gorgeous area of Lancaster. The guides really bring you a piece of history of this important site, and how people lived in the late 1800's.
Now, did you know that the entire City of Lancaster is a National Historic District? This makes Lancaster the only city in the U.S. with that designation! It is a great walking city thriving with arts and music, offering many great shops, restaurants and bars.
Phone: 717.392.4633
Strasburg Rail Road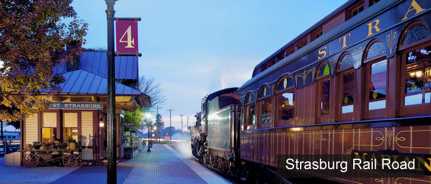 The Strasburg Rail Road has been one of the favorites of Lancaster County visitors, as well as a destination for many locals who like the feel of old times.
The feeling is amazing – you ride through the scenic Amish countryside of Lancaster County pulled by a historic steam locomotive! This is a thrill for kids and kids at heart.
Enjoy 45 minutes aboard a real, authentic steam train. Another bonus – you can even dine aboard this nostalgic train. 
Julius Sturgis Pretzel Bakery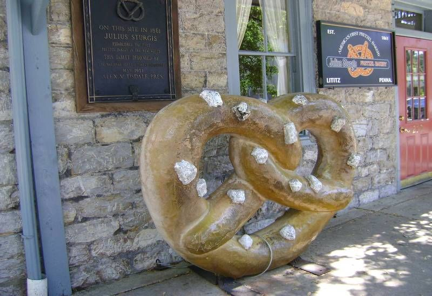 Welcome to America's First Commercial Pretzel Bakery located in lovely town of Lititz. It was here that back in 1861 Julius Sturgis opened the first commercial pretzel bakery, and now, all these decades later, the Bakery is still open and operated by the Sturgis family.
Today, visitors can take a bakery tour, learn about the history of pretzel baking, see the original brick ovens built in 1861, and watch old-fashioned soft pretzels being made on site, but the most exciting part for many is that you can twist your own pretzels, and taste the company's fresh hot soft pretzels and a variety of hard pretzels.
Phone: 717.626.4354
If you're going to venture forth, we hope you enjoy every moment of it. Guests who want to make the most of staying at our Lancaster PA hotel can have a fun movie night in their room; DVDs are available at check in featuring movies of various genres – children's, comedy, romance, thrillers, and more! Feel free to ask our friendly staff for all the details.
For a unique hotel in Lancaster PA, call Fulton Steamboat Inn today at (717) 299-9999 or book your stay online.