Coming to visit Lancaster PA is exciting enough; after all, this is a place abundant with history, attractions, and natural beauty, and its charm envelops every visitor. Now, the only thing that's left to do is make sure you find a Lancaster PA hotel that will also enhance your experience and make your visit a truly memorable trip!
But, what should you consider when choosing a hotel?
As you can imagine, location is very important – after all, convenience is what many of us strive for, especially if we are traveling with children, or simply want to be surrounded by major attractions. So, selecting one of the Lancaster PA hotels on Route 30 is your great starting point!
Why Route 30? That's easy – it's the route that offers local artisan as well as outlet shopping, dozens of restaurants, family fun and cultural attractions. Make sure you look for Lancaster PA hotels near Dutch Wonderland especially if you travel with kids.
Route 30 will also take you into a distinctive world of the Amish. From here, all of Lancaster County PA is easily accessible and at your fingertips.
Once you've explored an amazing Dutch Country with all its bucolic charm, you'll want to venture into the city of Lancaster and discover what our vibrant city has to offer. Again, Route 30 will quickly get you there, as well.
Now that you've picked the best location for your hotel, it's time to consider other important things for your stay, such as amenities.
Your stay should be pleasant and memorable. Décor and features are very important to some, cleanliness and comfort to others. If you're looking for all of the above, you'll find it at The Fulton Steamboat Inn!
Fulton Steamboat Inn looks like a steamboat; this lovely hotel is set in a tranquil environment, with ducks, a koi pond and lovely accommodation with great food and entertainment.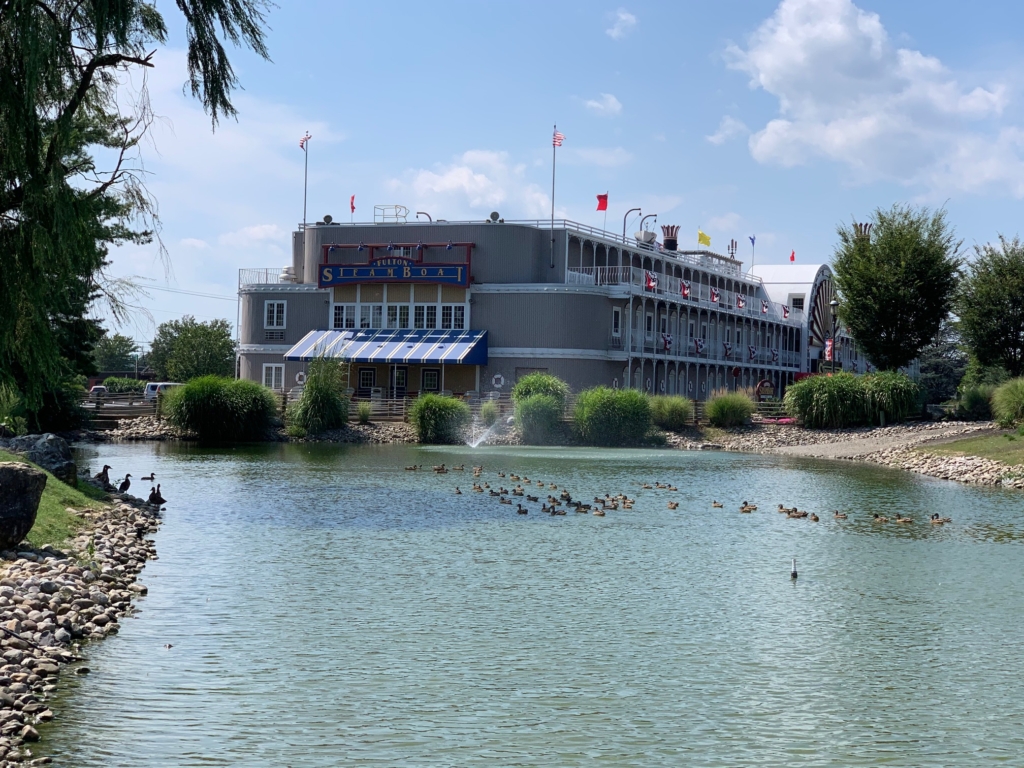 In this most unique among the hotels on Route 30, you'll find three elegant decks of beautifully decorated Victorian and Nautically themed guest rooms boasting authentic riverboat inspiration.
Amenities include a Heated Indoor Pool & Whirlpool, a fitness center, game room, complimentary Wi-Fi internet access, Blu-Ray DVD players complete with a DVD Library.
For kids, there's also a new playground – JR. First Mate's Happy Harbour Landing Playground. For those who love nature – there's a duck & koi feeding pond and a Fire-Pit & Patio overlooking beautiful Lancaster County Farmland. Enjoy a sunset as the fire warms you and makes you feel cozy, take a morning stroll by the pond, and let these experiences make your stay even more magical!
Now let's talk about food, drinks and entertainment. At the Fulton Steamboat Inn, two restaurants with delicious food await you.
The Steamboat's Huckleberry's Restaurant also features a great piano player who, depending on the season, will enhance your Friday and Saturday afternoons and evenings!
If you like Happy Hours, the Steamboat's Tavern has you covered. From 4-6pm enjoy appetizers and drink specials on the Happy Hour menu that are almost too good to be true.
Also, The Fulton Steamboat Inn has a gift shop for your convenience, so rest assured that at The Emporium Gift Shoppe you can get a PA Dutch Country souvenir even at the last minute. Local specialties include Kitchen-Kettle jams, chocolate-covered pretzels, handmade arts and crafts, Lancaster County quilts and more!
Whether you're a local looking for unique places to stay in Lancaster PA for your getaway, or a visitor coming to explore beautiful Lancaster County – we have just the lodging for you.
Book your "steamboat fare" today!