Fall is upon us and many exciting adventures and sights to be seen are awaiting you in Lancaster, PA! Whether work or leisure brings you to the Fulton Steamboat Inn, you won't be disappointed by our welcoming atmosphere, unique accommodations and amenities. Located just off of Route 30 in the heart of Amish Country in Lancaster, PA, we are in close proximity to many other attractions and sights that will capture your interests and get you in the fall spirit!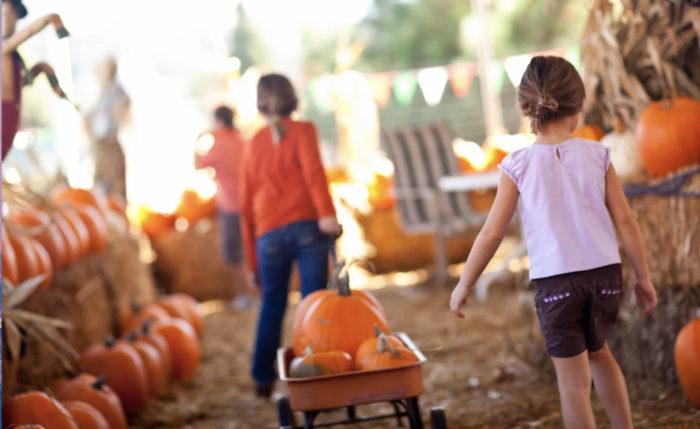 (Photo courtesy of: CherryCrestFarm.com)
During this unsettling time surrounding COVID-19, life seems anything but normal. School, work and everyday-life in general have all been impacted by social distancing guidelines and many plans have been forced to change. We could all use a little more fun and adventure these days!
What better way to welcome fall than with some outdoor activities to enjoy with the whole family.
The Fulton Steamboat Inn staff looks forward to welcoming you to their hotel, spoiling you with delicious food and a wide variety of lodging experiences and on-site amenities, as well as helping you plan an enjoyable stay in beautiful Lancaster, PA this fall. You and your family will love feeding our resident ducks and koi fish while you stroll down our walking trail. Enjoy spending cool and crisp fall evenings by one of our four fire pits along the pond, where you can even purchase items on-site to make YUMMY s'mores. Consider signing out our giant Jenga blocks, cornhole set or even one of our pre-washed and sanitized picnic blankets for some outdoor family fun!
When you're ready to venture out into "Amish country" and see the beauty of fall while visiting our Lancaster hotel, be sure to check out the following local attractions that are adhering to current COVID-19 protocols:
 Apple & Pumpkin Picking (throughout Lancaster County) – Spend the day outdoors strolling through beautiful orchards, picking apples and pumpkins, enjoy homemade apple cider and baked goods and maybe even catch a wagon ride and scope out towering sunflowers. Lancaster is blessed with a plethora of beautiful orchards and farms to explore this fall. Check out a list of popular orchards and fruit markets (and some tasty recipes to try with your produce) in the region here. Visit a local pumpkin patch or roadside stands to pick out the perfect pumpkins and fall squashes to take back home to decorate with, carve or eat. Be sure to bring your camera along as these locations make great family photo backgrounds.

Be sure to visit the individual websites/social media for these properties to obtain their current operational hours and COVID-19 accommodations.
Cherry Crest Adventure Farm (Ronks, PA) – With over 50 farm fun activities for the whole family, you certainly won't be disappointed by visiting Cherry Crest Adventure Farm! Admission to this family-friendly establishment includes many fun activities, such as the coveted Amazing Maize maze (which just won USA Today's #1 Corn Maze in the country award!), wagon ride, hay jumps & slides, a play area, pedal carts and a farm animal center (just to name a few!). Bask in the beauty of fall mums and pumpkins galore while strolling through this farm. Cherry Crest Adventure Farm asks that you wear masks when inside buildings, on the wagon ride and when in areas where you cannot social distance.
Cherry Crest is open on weekends and select weekdays thru early November. Please see their website for a detailed schedule and their hours.
Strasburg Railroad (Ronks, PA) – Be sure not to skip visiting the Strasburg Railroad, which won the 2020's TripAdvisor Traveler's Choice Award. Take a relaxing 45-minute train ride on America's oldest operating railroad and soak in the beautiful scenery as you travel through Lancaster County's coveted farmland. If you have any young train enthusiasts in your family, climb aboard Thomas the Train for a fun and exciting adventure! The staff at Strasburg Railroad requires their guests to wear masks (2 years old and over) and get their temperatures checked upon arrival.
Reservations are now required before your visit to Strasburg Railroad. They will use a contactless guest check-in process.
Pennsylvania Renaissance Faire (Manheim, PA) – Travel back in time to a 16th Century English village … right here in Lancaster County! The Pennsylvania Renaissance Faire, part of the Mount Hope Estate & Winery, features 35 acres of jousting knights, costumed characters, dancers and music representing the time period, a number of live shows and delicious foods and brews. What better way to relive history, eat some tasty grub and be entertained by the enthusiastic Renaissance Faire reenactors and staff with your family and friends! They are open on Saturdays and Sundays thru November.
Tickets must be pre-purchased and the gates open at 11AM and close at 8PM each festival day.
Aaron & Jessica's Buggy Rides (Ronks, PA) – Named after one of the founding Amish families in the United States, Aaron & Jessica's family home is the oldest standing in Lancaster County. Visit authentic Amish farms and houses while on a horse and buggy ride through real Amish country farms. Experience real Amish life right here in Lancaster, PA. Enjoy homemade Pennsylvania Dutch treats and visit real Amish homesteads and farms all while learning about the plain lifestyle.
They currently offer private and group tours and make your safety their priority. Various tours are available – see their website for details.
Fulton Steamboat Inn's COVID-19 Accommodations
Here at the Fulton Steamboat Inn, our hotel is currently welcoming visitors to stay with us in a safe and friendly manner. In accordance with state law, we are following all current safety guidelines of the Centers for Disease Control and Prevention (CDC). For the safety of our team and other guests, we ask all Fulton Steamboat Inn guests to wear masks when they enter the hotel and to follow social distancing guidelines while lodging with us.
Between our unique steamboat atmosphere, entertaining things to do in and around the hotel and our central location to family-fun activities in Lancaster – the Fulton Steamboat Inn should be a no-brainer when it comes to lodging options in Lancaster, PA this fall.
Feel free to make a reservation online or by contacting us at (717) 299-9999. We look forward to offering you a healthy, safe and fun-filled stay in Lancaster, PA this fall.
** All information shared in this blog is accurate as of September 18, 2020. Please contact each specific attraction before visiting for their current status.