The Fulton Steamboat Inn is proud to be the recipient of yet another prestigious award from one of their esteemed travel partners. Based on the reviews from their magnificent guests, The Fulton Steamboat Inn has been acknowledged for providing incredible experiences for their visitors throughout 2019. 
The Fulton Steamboat Inn is honored to serve all of their visitors with the highest level of quality and customer service. Their team works diligently to ensure that when guests choose the Steamboat, they exceed all of their expectations, as they strive to make a unique difference in an otherwise common sector of the hospitality industry. 
It is the hard work of their dedicated staff that allows them to maintain a standard of excellence that keeps their customers happy and returning to their fantastic establishment time and time again. The Steamboat would like to thank all of their customers for their patronage and for taking the time to distinguish the hotel as a top destination with their travel partners.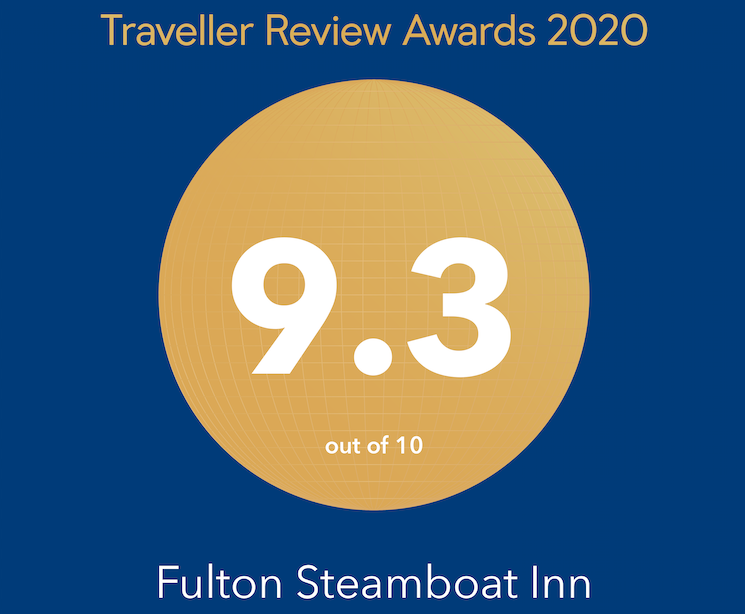 "We are thrilled to continue to be recognized for the efforts of the team at the Fulton Steamboat Inn, who work daily toward making every guest's stay a memorable one." – Jennifer Buchter, Captain & General Manager.
The Fulton Steamboat Inn is a unique trip down memory lane with lodging for guests traveling to the Lancaster County area. Giving their guests the best accommodations, dining and on-site recreation has been their goal since the day they opened. 
Their Victorian and Nautically themed guest rooms provide an essence of the past while still delivering all the modern amenities one would expect. Honoring the achievements of Robert Fulton inspired them to create this distinct hotel in the heart of Lancaster County. They pay homage to the legacy of steamboats and hope to share that experience with you. 
Make sure to visit them online to find out more about what they have to offer you when you book your next stay.