If you find yourself looking for lodging in the Lancaster, PA region, look no more! The Fulton Steamboat Inn, nestled in the heart of Amish countryside and local Lancaster attractions, is just the place for you. Whether you'll be in the area for business, a romantic getaway or are planning a fun family trip, the Fulton Steamboat Inn has you covered.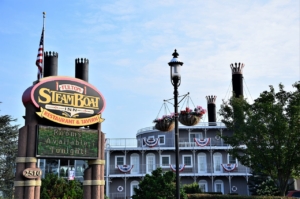 (Alain D. on Instagram)
Our unique hotel atmosphere, wide selection of rooms, special accommodations and wide variety of entertainment and dining options just minutes away make the Fulton Steamboat Inn stand out among Lancaster hotels. Past guests rave about our friendly staff, kid-friendly activities, unique lodging atmosphere and our yummy food and drinks served at Huckleberry's Restaurant & Tavern. So, if you're tired of the same old boring chain hotels, come join us at the Fulton Steamboat Inn for a brand-new lodging experience – we look forward to hosting you soon!
What makes us stand apart from other hotels in Lancaster, PA?
Atmosphere
All aboard! From the outside, our unique hotel looks and feels like an actual steamboat, complete with sundecks looking over water. On the inside, experience a mixture of Victorian and Nautical themes on all three floors of our hotel. You'll be greeted by our friendly and accommodating staff, and even treated to a warm chocolate chip cookie (a guest favorite), upon arrival.
Our deluxe guest rooms are spread out over three levels – all catering to our guest's desires and needs. The Promenade Deck, first floor of guest rooms, features great family-style rooms with a variety of bed sizes and accommodations. As an added bonus – our heated indoor pool and Whirlpool are located on this floor! The second floor, called the Observation Deck, hosts guest rooms ideal for couples and small families. Our game room, as well as excellent views of beautiful Lancaster County, are also located on this floor. Lastly, the Sun Deck (third floor) is reserved exclusively for guests age 16 and over. They feature private balconies and fireplaces, and are just down the hall from our fitness center and Captain's Lounge.
All of our guest rooms feature unique Nautical or Victorian furnishings and have standard amenities, including a flat-screen TV, microwave, coffee maker and many others. For a complete description of our accommodations and amenities, please click here.
Not only are our rooms top-notch, but so are our beautiful grounds and surroundings outside! The Fulton Steamboat Inn features a walking trail complete with duck and koi fish feeding pond, a firepit and patio, as well as a playground for all of our guests to enjoy. To get a real-feel for the ambiance and comfort our hotel will provide you and your guests, please check out our Virtual Tour.
Lots to Do
If you are headed to Lancaster, PA, chances are you are either catching a theatrical production, planning some major shopping, looking forward to seeing the quaint Amish lifestyle, ready to ride some roller coasters or a mixture of all of those things! Lucky for you – the Fulton Steamboat Inn is just minutes from all of those attractions. You can enjoy a cozy snooze, yummy meals and the comforts of a hotel in between all of your fun adventures in Lancaster.
The Sight & Sound Theatre and American Music Theatre are well-known and popular theater destinations in our area. They feature touring concerts and original shows that bring in over a million people from around the world each year. The Tanger Outlets and Rockvale Outlets feature over 200 stores, surrounded by farmland and beautiful countryside views. Dutch Wonderland is an amusement park geared for kids. Experience a variety of rides, live shows, yummy food and entertainment with your family. Take a short drive to the beautiful Strasburg Railroad and visit scenic Amish homesteads and farmland on the way. Be sure to check out a full listing of attractions in the area on our website.
Not only is the Fulton Steamboat Inn surrounded by an abundance of things to do, but there's lots to do within our hotel as well! Visit our Emporium Gift Shoppe to get some Lancaster County mementos to take home with you. Relax by our heated indoor pool and Whirlpool. Take a stroll on our walking trail while stopping to feed the ducks and koi fish in the pond. Let your kids burn off some energy at the pirate themed playground. And adults – we haven't forgotten about you! Enjoy working out in our fitness center, followed by some relaxation and unwinding in our Captain's Lounge or Tavern. Check out all our hotel has to offer here.
Yummy Food
Enjoy some Lancaster County favorites, like whoopie pies and chicken corn soup, as well as some fresh signature recipes right in the comfort of our hotel. Huckleberry's Restaurant & Tavern offers a charming atmosphere with great service and selection. Enjoy a family meal, a romantic dinner for two or even banquet-style dining for a private meeting or special event. Visit our complete menus, as well as entertainment and a list of special holiday events on our website.
Between our one-of-a-kind atmosphere, tons of entertaining things to do in and around the hotel, central location to all things Lancaster and yummy foods – the Fulton Steamboat Inn is a no-brainer when it comes to lodging options in Lancaster, PA. Let us make you feel right at home and cater to your needs while visiting the area.
A former guest's review on Trip Advisor assures you that the Fulton Steamboat Inn is the place to stay: "When we travel to Lancaster we always stay at the Fulton Steamboat Inn. It's close to the theaters, shopping centers and other places to visit. When you return from shopping you can have a relaxing snack or drink at the bar or a fine meal at Huckleberry's. We wouldn't think of staying anyplace else. The rooms are clean, well-kept and the staff is always friendly."
You can easily make a reservation on our website or by calling (717) 299-9999. We look forward to hosting you soon!