What makes the Fulton Steamboat Inn the best lodging location while you visit Lancaster, PA? Whether you're in the mood for shopping, theater, touring Amish country, amusement parks, roadside produce stands or strolls through quaint towns, Lancaster has it all. And lucky for you, one of the most unique hotels, complete with sundecks overlooking water, nautical themed rooms and lots of (indoor & outdoor) activities to keep the whole family busy, is just minutes from all of those fun outings! Bunk with us to experience superior hospitality and a trip you'll never forget.
Here at the Fulton Steamboat Inn, we go above and beyond for our guests.
Upon arrival, you'll be greeted by our friendly and accommodating staff, and welcomed to your home-away-from-home with an ooey-gooey, warm chocolate chip cookie – a guest favorite of course! Not only will our variety of deluxe guest rooms fit the bill for a relaxing and comfortable stay while visiting Lancaster, but our passenger amenities, eclectic gift shop, dining options and other on-site recreation activities will surely set us apart from other hotels and lodging experiences in the area.
While planning your stay with us and time in Lancaster, be sure to check out these "passenger favorites" – they are sure to not disappoint!
Dutch Wonderland – If you're looking for a day of outdoor fun and excitement for you and your little ones, Dutch Wonderland is the place to be! Located just minutes from the Fulton Steamboat Inn, this amusement park geared for kids will make the perfect family day trip. Enjoy a variety of rides, live shows, a train ride, yummy food, water fun and entertainment for the whole family.
Strasburg Rail Road – Just a short drive from our hotel, the Strasburg Rail Road is the oldest operating railroad with a charter in America! Dating all the way back to 1832 and nestled within Amish homesteads and abundant farmland, you definitely don't want to skip this destination. Climb aboard and enjoy a peaceful ride through beautiful Amish countryside and listen to audio commentary, which provides interesting facts and history. 
Sight & Sound Theater – Did you know that each year, more than a million people from around the world travel to this theater to experience amazing Biblical stories come to life? The Sight and Sound theater was founded by a Lancaster-native, Glenn Eshelman, over 40 years ago and has been bringing Bible stories to life in awe-inspiring ways ever since. Nothing compares to their four-story-high sets, complete with live animals and talented actors/actresses, to make this truly an ornate theater experience.
American Music Theatre – Hosting over 300 live performances a year, the American Music Theatre is another well-known and popular theater destination in the Lancaster PA area. They are unique in that they feature touring concerts, as well as original shows, that are sure to capture your attention. We encourage you to browse their show schedule and plan your stay with us around your favorite band, comedian, or performer's show.
Outlet Shopping – The Tanger Outlets and The Shops @ Rockvale not only hold over 200 stores, but they are also surrounded by beautiful countryside views as you make the short drive from our hotel. Get the best deals on apparel, shoes, jewelry, furniture and home décor and then refuel with some tasty food options. These outlets are located right across the street from Dutch Wonderland and the American Music Theatre (and are just down the road from Sight & Sound and Fulton Steamboat Inn).
Kitchen Kettle Village – Share laughter with family and friends, sample delicious local delicacies and browse a village of shops and eateries while enjoying Kitchen Kettle Village. Explore this quaint, walkable village of local cooks, quilters and shopkeepers while visiting Lancaster, PA. Be sure to check out their calendar of events to plan a great time to visit.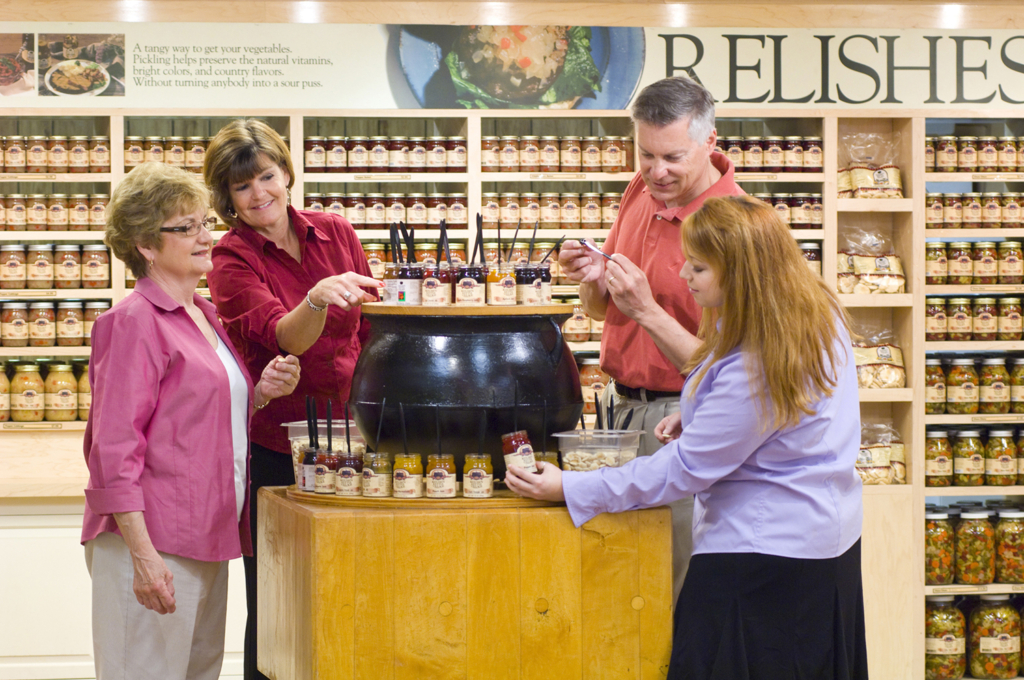 PA Dutch Cuisine – Think family style dining, smorgasbords of Pennsylvania Dutch home cookin' and desserts galore when it comes to eating your way through Lancaster! Good n Plenty, Hershey Farm, and Millers are just a few local favorites that are all within a few minutes of the Steamboat. Be sure to pack your stretchy pants!
Farmers Markets & Roadside Stands – Great tastes and fresh produce await! From visiting Lancaster Central Market (the oldest, continuously running public farmers' market in the country) to stopping by various roadside stands throughout Lancaster County, you'll have plenty of fresh goodness to take home with you. Get ready to see and enjoy an abundance of delicious sweet treats, fresh-cut flowers, crafts made by local artists, fresh produce and locally sourced meats and cheeses. Be sure to note special hours (Tuesday, Friday and Saturday only for Lancaster Central Market and no Sunday sales at Amish run stands) and payment options (cash only often times).
The Fulton Steamboat Inn is One of the Most Unique Hotels in Lancaster PA!
While this list just begins to highlight our passenger favorites, you certainly won't be bored when you visit beautiful Lancaster County, PA. Consider making a series of day trips to other local towns and villages, such as Lititz (voted "Coolest Small Town in America!"), Strasburg, Lancaster, Gettysburg, Hershey and Mt. Gretna. While lodging with us, be sure to check out all of the historic, fun and beautiful attractions within close proximity to the Steamboat.
Our one-of-a-kind steamboat atmosphere, number of entertaining things to do in and around the hotel, our convenient location to all things Amish country and yummy foods – the Fulton Steamboat Inn is the place to stay in Lancaster, PA! We encourage you to make a reservation on our website or by calling (717) 299-9999 to speak with one of our team members. We look forward to hosting you soon!